Discussion Starter
·
#1
·
This is what i am using to collect vegi oil.
It works great, grease thieves can't put a suction hose through the metal grate unless its a very small hose. The valve on bottom is a locking valve. Now of course a thief could take the whole barrel but would likely spill oil everywhere since the lid does not seal to prevent sloshing. Nothing is thief proof but the locking valve is mainly to prevent an accidental opening of the valve by anyone whom might want to see what comes out when they open it.
The lids are balanced when open so they will stay open while the cooks pump there grease but even a slight breeze will shut the lid keeping out rain water.
Its an easy target for the Cooks to hit therefor the barrel stays clean.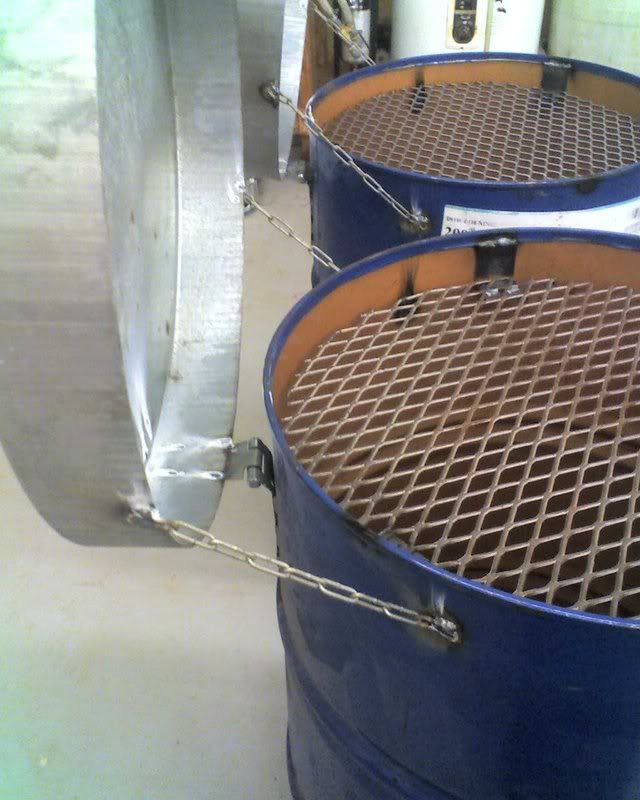 the stand is built to the height to allow me to put a cubie under the valve.
The restaurants keep their empty cubies for me to refill once a month when i go collect.
I paid 25 bucks for the lid, 3 bucks for the hing and chain and 16 bucks for the locking ball valve and i think 9 bucks for 4 sq. ft. of expanded metal. Welded it up and painted it. The stand didn't cost me anything as i had some 2x4 lumber already laying around.
I have 5 of these barrels made up with 4 of them in service, one is an extra in case i need it. I collect once a month as it takes my sources that long to fill a barrel. I do have another source that puts the oil in cubies for me and i collect 4 cubies a week every Thursday from them. So thats about 250 ish gal. a month i collect.