Shadetree flying cab (with pics) - need help engine swap, stuck
hnoes:
Hey guys, I am swapping 6.0 from 05 Harley D 4wd crew, into 05 dually 2wd crew.
Today I was able to lift the cab off in about 3 hours, using roof frame at friends garage, and 2-ton Harbor Freight chain hoist :taze:
If I had all the right tools (20mm crows foot dammit!) it would have been faster. I hooked 15ft straps thru front cab handles, and another one thru rear handles, out thru the doors (windows down) and up to the chain hoist. Front was hooked to upper radiator support with small capacity ratchet strap, to keep it level so it doesnt nose dive. Forgot the pic of straps/hoist, I will post it in the morning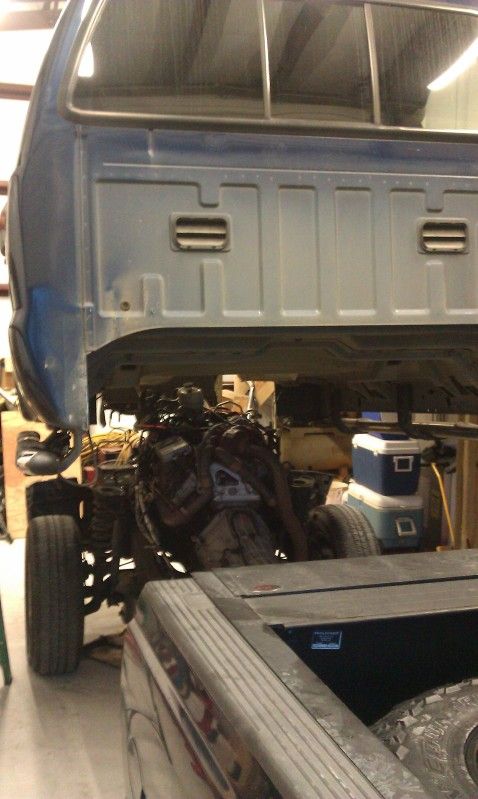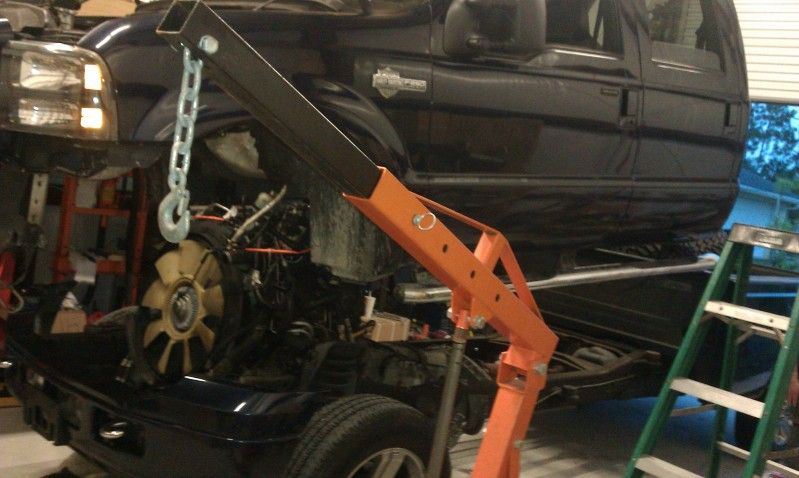 Now I have engine on the frame, out from under the cab, its all there in plain view, and I need to remove engine from gear/frame and set it aside.
I cant seem to figure out how to get passenger side engine mount bolts off....they are covered by exhaust manifold....hard to see let alone get to. Whats the proper way to get the engine mounting brackets removed, and pull the transmission off? I tried searching but "6.0 engine removal" mostly finds cab removal or front end removal, nobody seems to cover the actual engine pull off the frame. Also, what else needs to be removed to free engine from frame? How about gear, I found some talk about "inspection plate" opposite side from starter, thru which you get to torque converter bolts, but this 4x4 trans does not have any inspection plates, its just bellhousing all around.....I removed all bolts, except starter bolts, and now dont know what to do next?
Someone please help, in the morning I want to get 6.0 off the frame, lower the Harley cab down, and out of the garage on the trailer, and pull dually in for cab lift and do it all over again
lease: