·
BIG TRUCK, SMALL DRIVER
Anyone interested in the DIY injector kits should read the following. Because I could not afford the down time of having my injectors sent off and rebuilt and modded, nor wanted to tie up nearly $1000 in core charges while I replaced mine, I decided to go with Rosewood Diesel's DIY injector kit.
Performance Injectors for 7.3L Ford Power Strokes
I ordered the stage 1 (160cc) kit with pre-machined intensifier pistons for my '97 PSD. I went with the pre-machined pistons to cut down on the time my truck was in the shop. You can order the kit and pull your injectors, disassemble them, and take your pistons to a machine shop for machining. The kit comes with instructions to do so.
The kit contains new internal and external o-rings for each injector, as well as new nozzle springs, and some tools needed for rebuilding the injectors. The instructions are easy to follow and you even get a CDrom containing many photos of the rebuild process.
The first step was to remove the old injectors from your truck. This will take some time. First disconnect the batteries, remove valve covers, drain oil galleys, then pull the injectors. It is advised to have a repair manual for your truck for reference and steps to follow for injector removal. Remember to keep your work area as clean as possible and keep open areas of the engine covered. Keep in mind, if you do not get the pre-machined pistons you will need to allot extra time for machining. Also, if your injectors are worn, you may need to have the armatures machined or order new plungers. Allow time for this.
Injector rebuild:
After removal of the injectors, set them in order so you will know which cylinder they came from. Disassemble the injector using the supplied injector clamp, per instructions. Caution: there are some small parts that can get away from you. Keep everything organized. I opted to get the available "parts kit" just in case. You will need Torx size 15, 20, and 25, preferably sockets. You may want to have multiples, because by the time I got to the last few injectors, the drivers were starting to slip. You will also need a 10" or 12" adjustable wrench, a dental style pick for removing o-rings, and some long needle nose pliers. Have plenty of shop towels and carb cleaner on hand. I used 3 cans of carb cleaner. You will need a fresh quart of oil for lubricating the o-rings. The rebuilding took me about 6 hours, with the first one taking longest. After the first few, they started going like clockwork. Just keep in mind, nimble fingers and a cool head are a must. It is easy to get aggravated, but it could cost you.
*beverage can is for size comparison only
*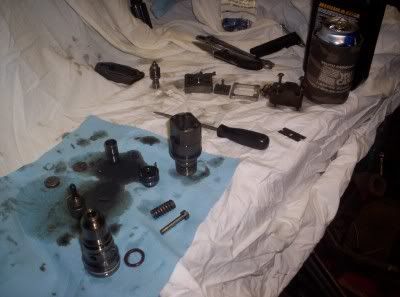 After rebuilding all the injectors, I let mine set over night for the o-rings to shrink back to their original size. The next morning, I re-installed the injectors to their original bores. I then removed the glow plugs and turned the engine over to expel any oil that entered the cylinders to prevent hydro-lock. This should be covered in your repair procedure, as there are some steps that I have omitted, as well as proper installation procedures and torque specs.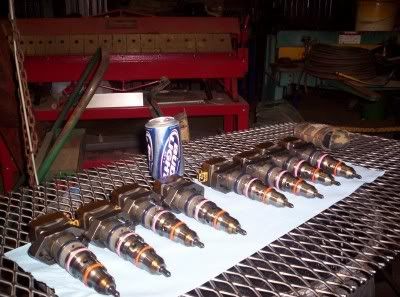 After installation and replacement of all engine components, it is finally time to check the oil (just for precaution) and connect the batteries. It took several cycles of starting and letting the starter cool, before the truck finally fired. After making a leak check it is time to break in the injectors, per repair manual instructions.
Final opinion:
Due to the before mentioned reasons, the DIY injector kit was the right choice for me. I had a limited time frame and a good place to perform the work. I also can't turn down a chance to try something new. I'm am really impressed with the quality of the kit and the final product is, well, pretty awesome. My truck is now a smoking beast, where before it was just another OBS PSD. I recommend good tuning and intake and exhaust mods before running these injectors. Also, you should always have a pyrometer and boost gauge before making any serious mods to your truck! Under normal driving conditions, my pre-turbo egt was in the 500-700 degree range. Towing 15,000 lbs, I hit 1100 degrees with a heavy foot, but was normally in the 800-900 degree range when I could resist the urge to smoke.
If you are not scared to tackle something a little tedious, the DIY kit is a good option for better performance.
I have over 10,000 miles on my injectors now, with no problems at all. I have dynoed at 305 HP and 606 ftlbs with a chip tuned by tony Wildman.