Discussion Starter
·
#1
·
This is a Write-Up on the Top Fuel Injector Seals & The Nipple Cup O-Rings in the High Pressure Oil Rail
If you find a leak at one of your top injector seals you probably have a leaky nipple cup also... Don't learn the hard way like I did


~How to Diagnose and Replace~​
Fact 1:
The top injector O-Rings can be easily replaced. You do not have to replace the whole injector as Ford would do.
Fact 2:
There are O-Rings behind the the Ball Tubes/Nipple Cups in the High Pressure Oil Rail. They are serviceable and easily replaced with the proper tool. YOU DO NOT HAVE TO REPLACE THE ENTIRE OIL RAIL AS FORD WOULD FOR $500 a PIECE!
Fact 3:
A Leak that shows up in your top injector O-Ring is probably actually originating above at the nipple cup seal. The high pressure oil actually follows the body of the nipple cup and attacks the top of the top injector O-Ring. This can be easily diagnosed by inspecting your old top injector O-Ring, if the top looks eroded, but the bottom looks fine, you have a leak at the nipple cup.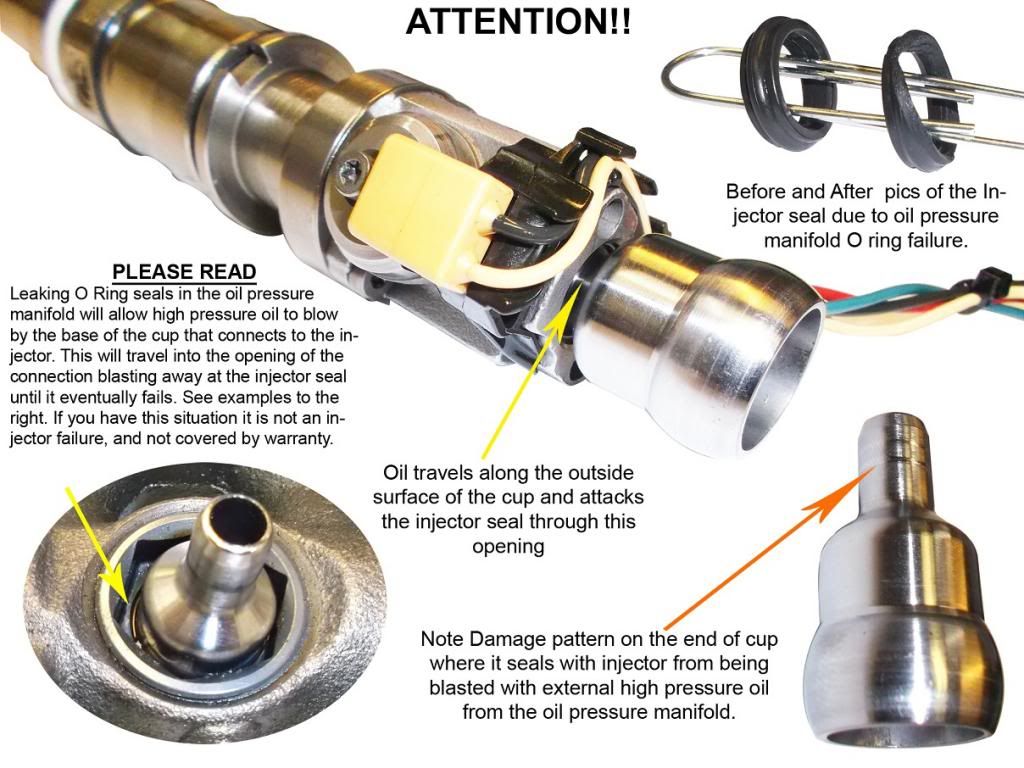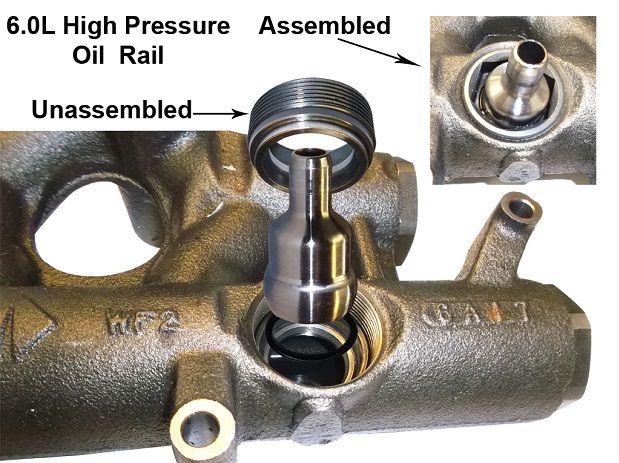 Diagnosis and Repair
Parts Required:
O-Ring kits that include the top injector seal and a new retaining "C-Clip"
There are 2 major manufacturers that produce these;

~Bostech Industries - Part# ISK102 XDP Link

(I actually ordered mine from InjectorWhse.com for $4.29/ea under the part # AP0002 they sent me the Bostech kits)
Nipple Cup / Ball Tube Removal Tool
I believe Bostech is the only one making these(I found others re-branding it);
Replacement Nipple Cup and O-Ring Kit
Bostech is also the only ones making these also;(I chose to replace all 8. Each kit includes a brand new nipple cup and they retail for $39 each, but you can replace all 8 and buy the tool for less than a new oil rail)
Step 1:
Determine that you actually have a high pressure oil leak. This has been covered quite a bit, but I do have a video on this below.
It should be noted that many people are driving around with small HPO leaks that don't keep them from starting or running. The only way to really find all of the leaks in your HPO system is to test with a higher pressure source such as a Nitrogen bottle instead of shop air. Your HPO system runs at 3500+ PSI under WOT, so 100PSI is nothing and will only show you major leaks. A Nitrogen bottle will get you to around 1000 PSI. Lucky for us shop air will find the leaks big enough to keep up from starting and running. Leaks at the nipple cup seal actually can't be heard with shop air, Believe me I went though this 3 separate times for failed Top injector seals and never heard a leak once I replaced the Top seals, only to have the same seals fail weeks later. This is why I'm writing this post, so that others can easily diagnose a bad nipple cup seal.
This is an old video I did, but It's pretty accurate.
Step 2:
Determine that your leak is at one of your top injectors. You will feel/hear air coming out around the top of the injector under the oil rail. I made a video of one of my leaks, but an air leak is hard to catch on video
Top Injector Leak
Step 3:
Replace your top injector O-Ring or Seal. The best way to explain this is in a video. Once you get the hang of it, it is actually quite easy. I have done it with the injector still in the engine, but
I DON'T RECOMMEND THIS
It is much more difficult, frustrating and time consuming trying to get the retaining clip out lying on top of the engine. I think the rear injectors would be near impossible. You already have the o-ring kit, just pull the injector out.
Step 4:
Examine your O-ring. If it looks like it is eroded from the top(nipple cup side) Down, you need to replace your nipple cup seal also. The bottom will have a nice smooth, flat, undamaged surface where as the top looks sand blasted. You may even find little bits of rubber o-ring all around the retaining clip and metal beveled keeper ring.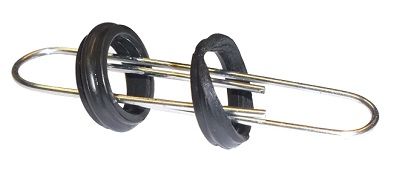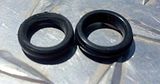 Step 5:
Replace one or all of your Nipple Cup Seals. If one is bad, the others may be failing also. Give your nipples a wiggle, if they feel loose at all, replace them. You don't want to get stuck somewhere you can't fix it. You should feel a snugness and resistance as you wiggle the nipples. The ball of the cup seals against and o-ring, so if it doesn't feel like it's contacting rubber you probably have at least a small leak.
The Tool Used to Remove the Nipple Cup and Replace the Seal:
The Repair kit Comes with a Brand New Nipple Cup and an Upgraded Viton O-Ring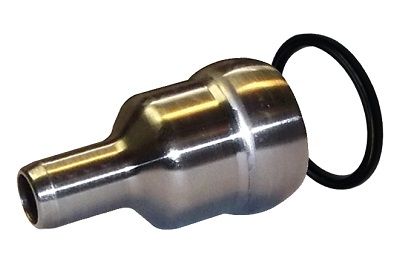 Step 6:
Put it all back together. If you have never had your oil rails off before there are a couple things to note;
1:
It takes quite a bit of cranking to purge the air out of the HPO system once re-assembled. I like to unplug the FICM relay and use the Ignition pigtail to the positive battery terminal if I didn't pull any injectors.
How to Video
2:
If you had one or more injectors out, you need to re-prime the fuel system and purge any air BEFORE the FICM tries to fire the injectors. In this case I use the key to prime both the HPO and Fuel System. I unplug the Glow plug relay connectors then just cycle the key on and off cranking for about 20 seconds a time.
Cycling the key ON/OFF is the important part here! This Turns the Fuel Pump On and Off to purge the air
By the time the Oil Rail has purged enough air out to develop the 600PSI needed to tell the FICM to fire the injectors, you will have turned the fuel pump on and off at least 5 times and enough to purge the air out of the fuel lines.
Step 7:
If you just replaced all of your nipple cups & O-rings and All of your injector O-rings, have yourself a beer and rest assured that your HPO system is solid and won't develop leaks for a long time....
My Story (Why I had to do this):
I had a high pressure oil leak at one of my top injector O-Rings so I replaced it. When I replaced my head gaskets a few weeks later I decided to go ahead and replace the rest of them while I had all of the injectors out. I drive long hard miles for my work generally towing something, Within 10,000 miles the same O-ring that had failed before failed again (catastrophically; the beveled keeper ring had shattered into a few pieces and the O-Ring was in 2 pieces that I could find). I replaced it thinking it was a fluke or something. Then within 2 weeks of heavy driving I had 2 more develop leaks bad enough that I had a Hot no start situation. (Luckily I had shut it off in a Walmart parking lot and was able to go in and buy their mid sized air compressor and the biggest inverter they had to air test my HPO system right there in the parking lot). I had developed leaks at 2 more injectors on that same rail side. I fixed them right there in the parking lot(1500mi from home). I was pissed, naturally, and sent a long email to the company I ordered the O-rings from thinking they were inferior. They forwarded my email straight to Bostech and within 24hrs the general manager replied via email. His name is Brian and he is actually a very nice, very knowledgeable on the 6.0L engine. He sent me all kinds of information and pictures(some of which I have included above) and we even ended up talking on the phone for almost an hour about the nipple cup seals, and all of the other known problems on the 6.0L. I didn't even know there were O-Rings in the oil rail and based on the limited information I see on it in the forums not too many people do either, hence this write-up.
Here is what a catastrophically failed O-Ring looks like. The O-ring was in at least 2 pieces, the keeper ring was shattered into at least 2 pieces and the C-clip was all bent and deformed: