Heres a few pics of my CF as it slowely comes together.
This will hold the upper barrell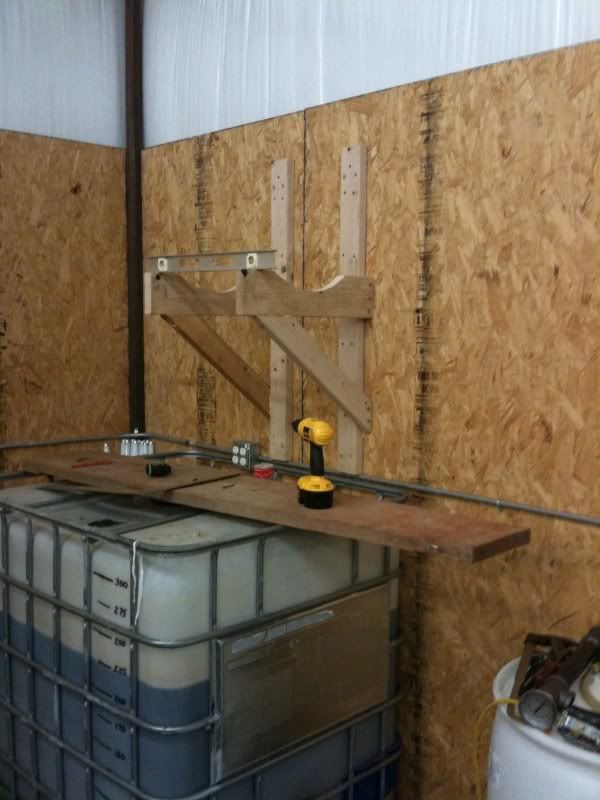 The oil will be pumped from the lower barrel to the top barrel where it will gravity feed into the heater pipe, out of the heater pipe at a rate set by the gate valve on the outlet of that pipe and into the CF. Not shown is a thermometer that screws into the end of the pipe so i can set my flow rate based on the temp. I suspect the oil will heat fast enough to run about a quart per minutes flow. The oil then exits the CF into the PVC pipe and can be directed either to the tote with the left valve or to the lower barrel if i want to run the oil a second time. Also not show will be a drain tube from the pot for the dirty oil to drain into a bucket when the CF is turned off so any water in there will be discarded through this drain.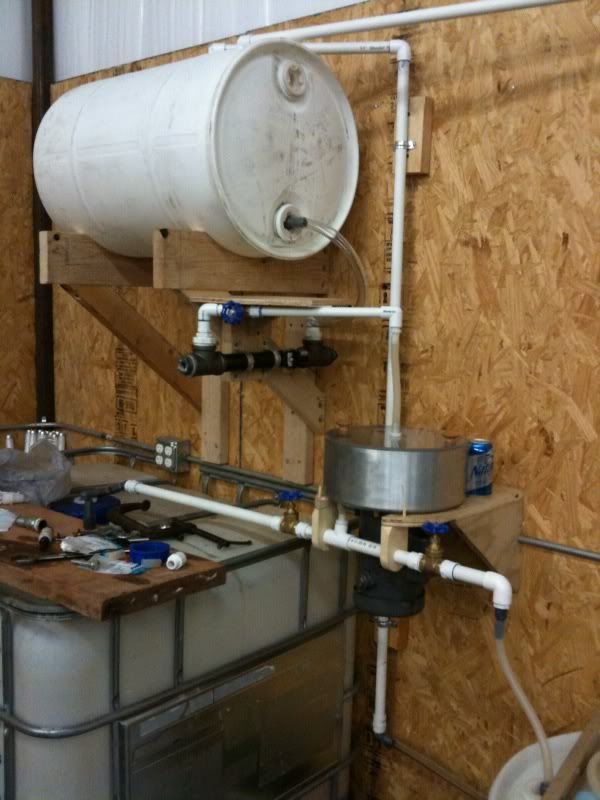 3
The long pipe overhead into the upper barrel is a vent that leads back to the lower barrel in case I overflow the top barrell...oh who am i kidding, it will happen eventually...lol
The CF lid, my favorite part. We machined this from 2 pieces of plexiglass, superglued them together and the bottom piece forms the lip inside the pot with a small rubber hose siliconed in the lip to form a nice snug seal when the lid is on. We drilled and tapped a 3/4" hole in the center to put a nylon barb in for the hose to connect to. Then a piece of SS tube was inserted into the barb and bent to drip the oil off to the side of the CF bowl. And of course the knob handles...2 were needed because the lid fits that tight. We used silicone hose to attach to the lid because its very soft even when cold and it will withstand the heat as well.
Heres some of the outer pot, you can see the stand pipe around the shaft, its PVC with JB weld and the drains are brass barb and JB weld. The inner bowl was a dog feed dish that we cut the bottom off of and then cut the top off to get the desired height.