I did this on my 2017 F250. I'm sure it will work on 350's 450's through 19 but just in case you need or notice something different.
Now that I know what to do this really shouldn't take more than 15 mins to do.
Start by locating the module under the dash. It is located right above the gas pedal. There is a black push in clip holding it in place. Push this up and then slide the module to the side and you can see in the picture how the tabs hold it in place.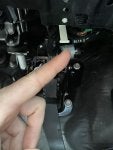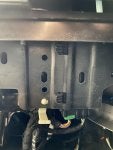 Next thing remove the white push in clip as well. This just allows you to get a little more slack on the wiring harness. Then unplug the green plug.
Locate the grey wire with an orange stripe.(Pin location 2) This is the 12v power that activates the relay for the 5mph sensor.
Here is where you can go a couple different ways. I pulled the wire pin out of the connect completely. To do this remove the white retaining piece. Then stick a really small flat head screw driving in pushing the retaining clip down and pulling the wire out. Then I cut the loom a little bit back to give me access to making the wire a little longer.
Then I removed the yellow wire with a red stripe (pin location 1) this is your constant 12v power wire.
I then cut the grey wire back leaving me some length and stripped the end. I then soldered this wire into the yellow wire. Some people will choose to use a crimp etc here and that is fine just my choice.
Then pull the yellow wire back into the original location pin location 1.
Then pull the grey wire back into its original position of spot 2.
What you should now have is a wire looping from position 2 to position 1.
You are now done. Reinstall everything back to the way you found it.
A couple notes here***
1. It is not necessary to remove the wires from the clip. I did this because I am confident in not ruining the connector and this also gave me more slack to stripe the wire etc.
2. You can splice the grey wire into the yellow wire however you choose. The main point here is to point the grey wire to the yellow constant 12v power source.
3. Also important to note. You must remember to turn the lights off yourself. When with the truck shut off key out of the ignition if you don't hit the button to shut them off they will remain on.