I use Auto Nation (formerly Tousley) for most of my parts needs, but I noticed that when I purchase directly from the old Tousleyfordparts.com link, they charge me more for shipping. Same link if you use parts.autonationford.com.
So I have resorted to using fordparts.com to order my parts and selecting Auto Nation Ford at White Bear Lake, MN (Formerly Tousley Ford) for all my parts needs. They have been the cheapest for OEM parts. Their prices are 5% over dealer cost from what I am told. The cool thing is that I can compare and shop with other dealers at this same link, so if someone else says that Sunrise Ford is cheaper for X part, I can just select Sunrise as my parts dealer and I get their price, shipping is ALWAYS the same, no matter who I select to shop with. If your local dealer is cheaper, you can go ahead and pick it up and save on shipping. Shipping rates are as low as $7.95 for FedEx Ground and $9.95 for FedEx Overnight.
*the 'catch' for OVERNIGHT shipping is that you won't necessarily get overnight delivery from the time of ordering. The Parts Dept may not ship your part until the next day, but you get Overnight from the the time of shipping.
Shipping Rates: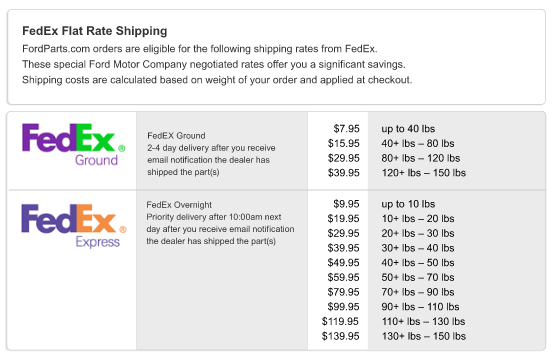 Now we can move on to the How-To:
1. Navigate to
Official Ford Parts Site | Buy Motorcraft & OEM Ford Parts Online | FordParts.com
2. Scroll to the bottom of the page at fordparts.com and click on 'Select Dealer'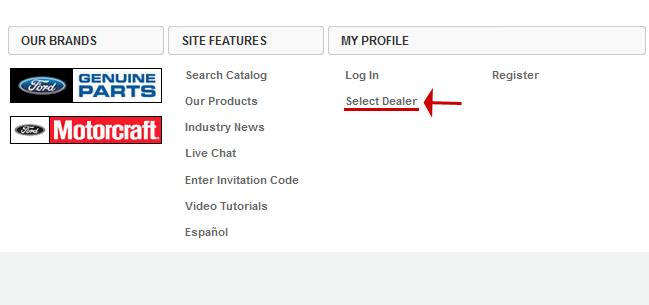 3. This brings up a Search Page where you have two choices. Enter the Zip Code (55110 for Auto Nation Ford)
or you can do a search for 'White Bear, MN'. I tried White Bear Lake, MN, but for whatever reason it doesn't return any dealerships. Weird.
4. The search will return the list of Dealers within 25 miles of whatever you searched. Select AutoNation Ford White Bear Lak
5. The next screen asks you to verify that you selected the correct Dealership. Go ahead and click 'Continue' here.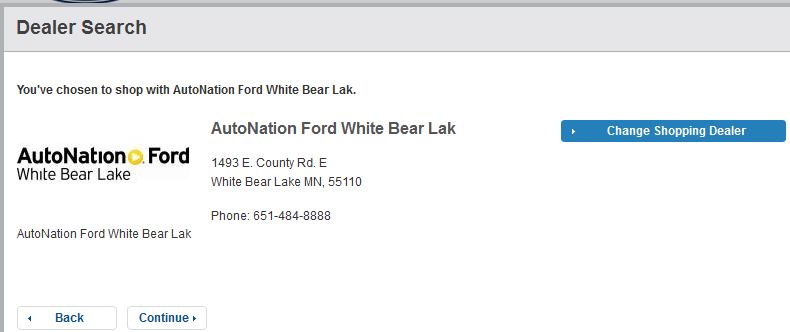 6. There are a few ways to verify that you are IN FACT shopping for parts prices using Auto Nation. After you perform a search for parts... you will verify that Auto Nation is selected. Red arrows all point to the verification: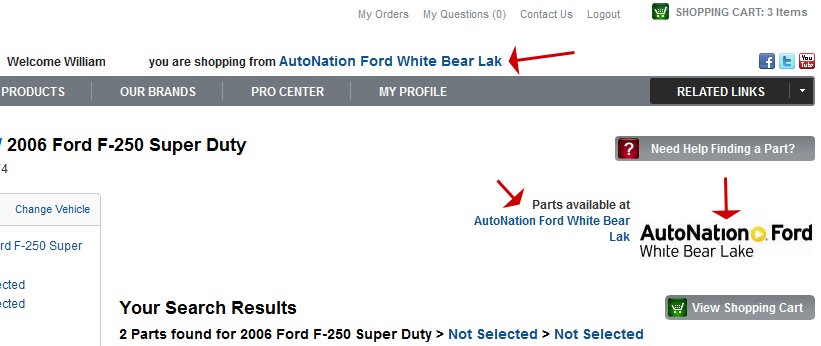 7. If you want to save Auto Nation and any other Dealership so that you don't have to go through these steps each time, then you will need to Register an account.

8. Once you have registered, you can click the link again for Select Dealer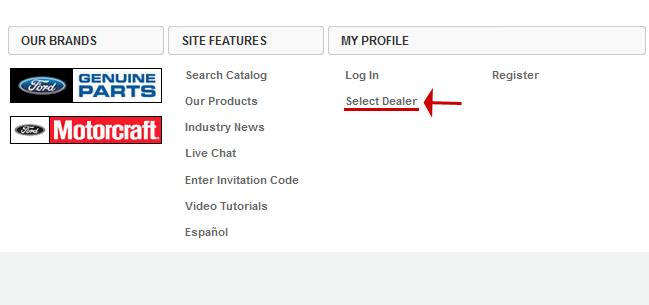 When you do, all the Dealerships that you have saved/searched will be listed. You can just select 'Shop this Dealer'.