Discussion Starter
·
#1
·
Just got done with swapping a 01 style headlamp switch with fogs into my 00. The info was hard to find so here is what I did. From what I have seen it's the same harness for 05's so this may work for a 05 dash swap.
First issue, old switch uses a pair of square plugs, new one uses a pair of rectangular ones.
The conversion is fairly straight forward, just match up the wire colors. Of course I did a bit of testing before hand as I couldn't find pinouts for all the connectors.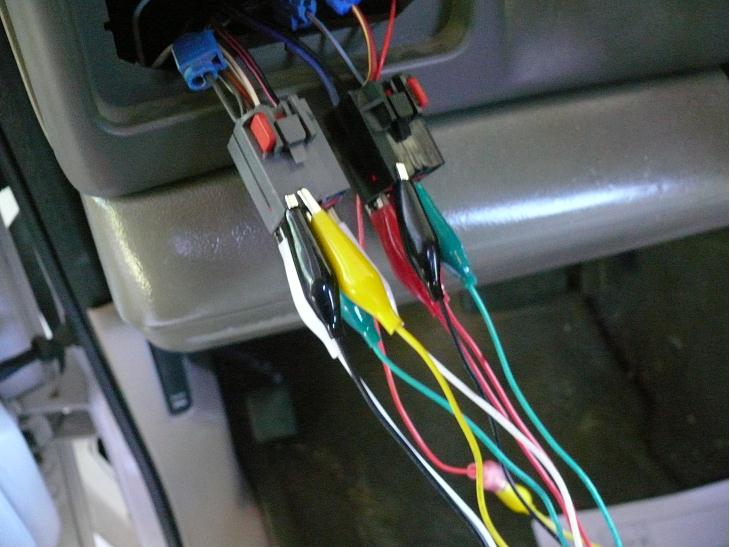 It could just be the harness I used, but I had a 237a #7 and was lacking a #11. The pigtail I used came from a truck without fogs but with auto lights. My suspicion is #7 is for auto lights and #11 was removed to disable the chime. I would prefer to know if I leave my lights on so I swapped the pin from #7 to #11. To do so, pry up and remove the orange insert. Insert a small screwdriver or scribe and push the plastic catch out of the way wile pulling the pin out.
Next begin cutting the old connectors out and splicing in the new ones. I did one wire at a time as I already had them mapped out with test leads.
If you look closely at the above photo, you can see C273a (grey connector) #5 Yellow is connected to a relay for my fog lights. C273a #6 black shares a ground with C273b (black connector) #4, this is for the fog indicator lamp. C273a #2 (brown in my pigtail) parallels #8 blue/orange, this is the input power to the fogs. You will also find that there are two tan/white wires paralleled in the old harness, I left this the same. There is one extra set of wires, the black/pink is a switched power source. I soldered these together and capped them as they aren't used on the new switch.
Finished product.