Marty had a great write up on testing your glow plugs here.
http://www.powerstroke.org/forum/7-3-repair-help/45887-glow-plug-aih-relay-locations.html
Since I'm trying to run down a problem I figured I would give this a try, but since I'm a bit slow on the uptake...I'm looking for assistance.
First off, the symptoms I'm facing:
I've put about 1000 miles on in the last 30 days towing my boat. I've been running just fine (although blind with no gauges) for a while. I've already had the IPR come loose and fall apart (it's been put back together...could be loose again?) IDM replaced, Under Valve Cover Wiring Harness fry (been replaced) HPOP o rings replaced, Fuel Seperator o rings replaced and as I mentioned I've been running fine.
After sitting a few days I started the truck up and noticed it felt a little off...missing a bit and slightly low on power. I wasn't towing at the time, just a normal commute to work. I noticed white smoke from the exhaust.
Now...I've ordered up an Edge Insight unit so in a few days I'll be able to start monitoring my temps, but in the meantime I have no way to pull codes So i decided to start by resistance testing the glow plugs.
I used an Ideal Split Jaw meter which is an auto sensing meter. When no voltage is present it automatically switches to resistance mode.
Here is the plug headed into the valve cover. For kicks I measured resistance on the plugs and got 1.432 ohms.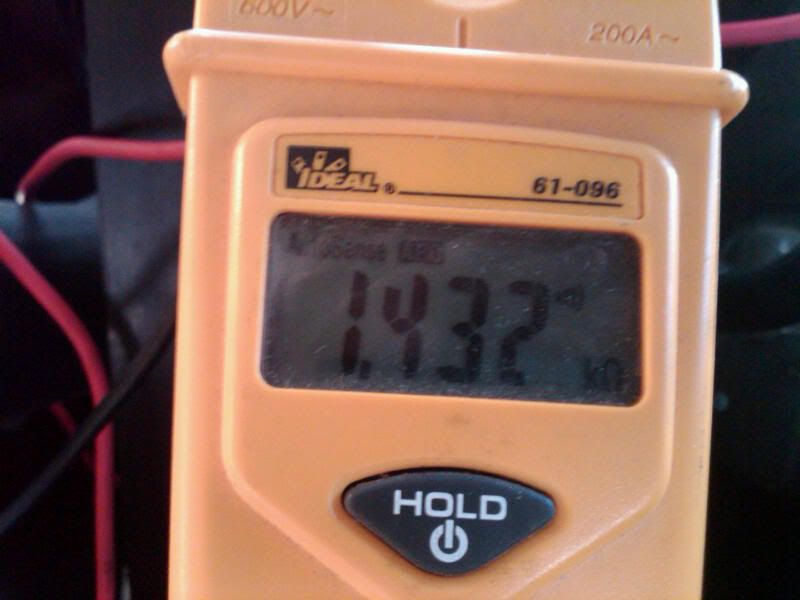 Now the million dollar question....am I conducting this test properly? ORRRRR am I supposed to be taking readings from the pins in the receptacle on the valve cover? I'm pretty sure I need to test the pins on the valve covers, since those are what connect to the glow plugs.
Maybe I need to rig up something like this?

Can anyone set me on the right track?