I had a problem the other day. It's resolved, but I thought that I would report out on it.
My truck had been sitting for a couple of weeks while I was gone on a hunting trip. I had not left the trickle charger plugged in. The weather while I was gone was very rainy - but not terribly cold or anything.
I started the truck and headed to pick up my daughter. I didn't allow much warmup. Accelerating from the first stop light, I felt a slight shutter. I drove maybe 150 yds farther down the road and it stumbled again and then died. It restarted, so I pulled to the next light and got in the left turn lane. It died but restarted before I got the green left arrow. I made the corner and - as it died the last time - I rolled it into a parking spot adjacent to an O'Reilly's Automotive lot. It would not restart.
I pulled the codes and screencapped them: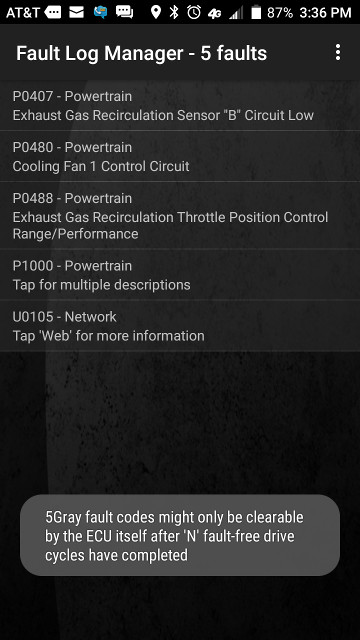 At a glance, the EGR codes are because my valve rides in the valley and my late 2004 EGR throttle is in the basement. ...and the P1000 doesn't matter. I had never seen a P0480 fan code before, though, and I got completely distracted by it. I've never had issues with my fan. I rarely hear it - but I don't have temp problems, either.
I didn't even notice the U0105.
Then - while exiting the code screen - I saw that my FICM voltage was "-" - yes, a minus sign. I figured that it had to be a failed FICM power board.
The FICM power board was a Dorman that I stuck in about 3.5 years ago. I had just gotten the truck and joined here then, so I didn't know anything about anything. It had always been fine but - being a Dorman - a failed power board was an easy excuse.
While walking back to the house, I called that same O'Reilly's to order a TechSmart FICM board. It would take a day to deliver. I also knew that folks recommended that FICM relays get changed periodically and mine was original. I called the Ford dealership next to O'Reilly's and ordered that. There would be a day wait on that, too.
When I got to the house, I grabbed a spare FICM from the basement and threw it in my car. I didn't think that I'd need it because changing a FICM power board is easy enough and I wanted to keep the original FICM in the truck. That FICM was more for desperate situations. But... no reason not to have it handy for this, just in case.
The next day was rainy and high 30s, so I let it sit.
As soon as I got my FICM power board and relay, I went back to it. I swapped the FICM relay, disconnected the fan clutch, and tried to start it - just in case it was that easy. Truck just clicked. My lack of trickle charging while hunting and restarts to get the truck parked had taken their toll.
I asked O'Reilly's if they would mind if I ran an extension cord from their receiving door to my truck. I wouldn't say that they were thrilled, but they were okay. I came back with 150' of extension cord and my big charger.
While I was waiting for the charge, I remembered that I had captured the codes. I went back to the list and noticed the U0105. Dang. I had no idea what that was. I keep the PC/ED on my phone, so I was able to read up on it. From the PC/ED, I checked battery connections (solid), wiring (seemed fine), and the FICM connectors (also seemed in and tight).
All charged. Still, no start.
Then I read codes again. It was the same as above except a different fan code (due to unplugging) with an additional U0306 - FICM Software Incompatible. Wth?! The FICM had never been changed.
Seemed like it was backup FICM time. I moved the degas bottle aside and swapped the old with new. Fired right up and ran as good as ever.
So... next steps/lessons learned:
Look at codes. All of them. Crimony!
I just ordered a Hayden 2835 fan clutch and a BPD adapter. I will still have a fan code. I just won't care.
I haven't cracked open the original FICM, so I can't quite say what is wrong with it. I am just going to send it to Ed and have it redone with a new power board. They'll be able to tell me what was wrong. That one will go back in the truck.
I originally blamed Dorman, but I really don't know that I can. I can't be sure, anyway.
I'm going to return the TechSmart board and leave the spare FICM that I am currently running in my rear toolbox, instead.
tl;dr: Swapping FICMs made my U0105/U0306 code combo go away. YMMV.