Discussion Starter
•
#1
•
I'm starting this thread to document putting an air ride seat in my F350.
First, a little back story.
I've now got 390K miles on my '01 and am typically putting between 4,000 and 6,000 more every month for work.
I have a herniated disc between L3 and L4 in my back and this past Friday had my 3rd Epidural Cortisone Steroid injection into my spine.
I'm only 28 yrs old... and realize I need to do
something
to help ease my back problems, most of which probably stem from being in my truck for hours on the road, in addition to hours waiting on job sites in my pickup and sleeping in my truck overnight (the life of an Oil Field worker).
So I had a hairbrained Idea and started looking around online air seats for pickups, specifically the F350 chassis. I knew they had them in 650's and with matching cabs, something would inevitably work
After a bit of searching I discorvered flat out buying a unit was going to run me $1,000+. Not the end of the world, but I would like to replace my injectors before too much longer in addition to the truck needing some new tires in the coming weeks. Add that to the fact that I am a cheap bastard I figured I've put enough seats in race cars over the past few years, ain't scared of a welder and enjoy fabricating stuff (for personal and financial satisfaction)
Was browsing craigslist last night for nothing specific and low and behold came across this ad:
Ford Superduty Air Ride Seat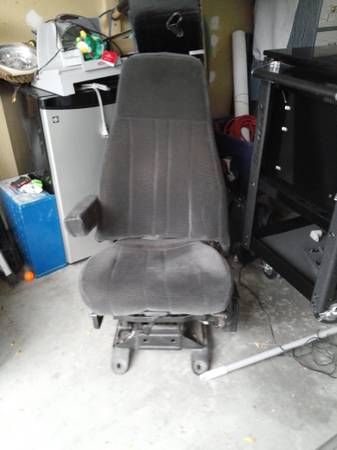 Bought it this morning first thing. The seat itself, although usable, doesn't match my light gray interior is pretty rough so I separated it from the base. I was afraid after reading some other threads I wouldn't be able to separate it from the sliders, but fortunately it wasn't an issue for me. I am hoping to keep the slider (either the manual one on this frame or the power from a factory seat) but if not it's not the end of the world as 99.9% of the time I am driving the truck.
I went ahead and removed that red tape, then used a couple of zipties to secure the air line to the base so the slider bar wouldn't rub on it. I also straightened out the bar for the slider (after taking the picture). I am going to pressure wash it and regrease it before going too much further from here.
Also, the base included an air compressor (hidden in that little box), with its own switch, so all I have to do is wire it to a fused 12v Source.
I will be going to the junkyard in the morning if I don't get called to work to search for another stock seat. I don't want to cut mine up if I can avoid it. Also, if I ever do get rid of the truck (highly unlikely), I would like to be able to just bolt the factory seat back into it. Chances are if I buy another truck after this one, it is going to be a Superduty too, so I could transfer this seat into it.
Will update as I make progress!
:icon_ford: