Discussion Starter
·
#1
·
Hopefully this is not as much an issue in the US as it is around here, but everyone here believes you need to clean your air filter with compressed air frequently, or at least at each oil change. That of course is disastrous, although the other day I found that the Nissan manuals (at least here) actually recommend it, although with very low pressure.
Then came the question from one of the Nissan Dealers I sell to as to why the cars were using so much oil. That something was wrong with the oil. Of course the oil consumption tells you about a mechanical problem.
So I had him send me some samples, and I drained the oil from my pickup at 3600 miles of dirt and mountains, deliveries, etc. My brother-in-law drives it daily, but I don't allow anyone to touch the filter until about 15,000 miles, when I toss it.
The Nissan dealer sent me 3 samples, one from a Nissan Patrol (not sure it gets to the US, but it is like the Land Cruiser of Toyota), and 2 X-Trails, one of which they were rebuilding the engine at 49,000 miles.
Here are the results. All have the same oil. The first one is from my Pickup, with 95,000 miles total. Only 4 ppm of dust and 1 ppm of iron wear.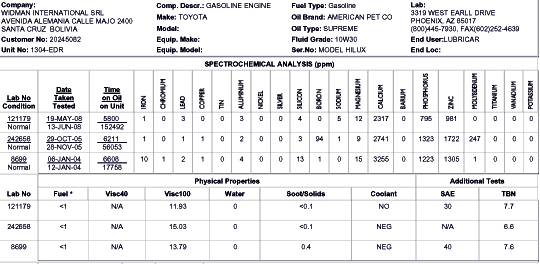 The second one is the X-Trail getting the engine rebuilt at 49,000 miles. It has 66 ppm of dust and 153 ppm of iron.

The third is another X-Trail with high oil consumption with 34,000 miles on it. 21 ppm of dirt and 11 ppm of iron in this sample.

Finally we have the Patrol with only 9000 miles on it. 16 ppm of dirt, 7 of iron, plus 13 ppm each of lead and copper from the bearings.
If the worst use vehicle can have 1 ppm of iron wear in 3600 miles while others have 153 ppm in 2800 miles, the difference in longevity is clear.
So next time someone tells you to clean the filter, hopefully you know what to tell them.