Discussion Starter
·
#1
·
I would assume this is one of what will soon be many aftermarket mounts that will be available to mount a winch in a similar fashion as the factory winch. You're looking at maybe $150 worth of plate and some cost to have the parts laser cut. I can appreciate the engineering time it took to develop this, but wow, this is expensive for what you're getting. I would expect a kit like this to be more like $300 - $400.
I've been doing hardcore offroading for 20+ years and have had a lot of experience with many of the winches on the market. I'll say that not everybody needs a Warn winch that's $1500 - $2000. For the people that plan to rarely use it (pulling the occasional car out of the ditch, dragging a tree around the yard, etc.), any one of the $600-ish 12,000# winches available would work fine. If you're using your winch on a regular basis or in critical applications, then it makes sense to pay for premium quality.
I'm looking forward to putting a winch on my truck, but will hold off for a while hoping for a kit like this that costs less. Or I'll make one myself if nothing is available that I see is a fair price.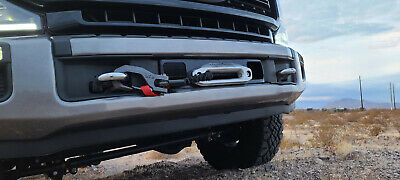 Designed to be used on 2020+ Ford Superduty trucks without Adaptive Cruise. This kit must be assembled by a certified welder. This products is to be used at your own risk. THIS ITEM IS A"YOU WELD KIT".