Many of you are familiar with the 6.0L Diesel Powertrain Control/Emissions Diagnosis Service Manual or PC/ED. Anyone who has one of these knows that it's the shiite. For those who do not, I'll describe it briefly.
You know that one time when your brother was really drunk and he told you A) there is a Brake Pressure Applied switch on your 6.0 and B) how to effectively troubleshoot it? That came from the PC/ED.
Remember that other time when your great uncle - on his death bed - told you how to do a KAM reset? That also... well... you get the idea.
_______
I have had a paper copy for a while. I like things in electronic format, though. So, I bought a second copy, cut it up, and sheet-fed scanned it. Due to document size, I have it broken into sections. Due to size and attachment file count limitations, I will attach the individual files over (hopefully) the next two posts.
You will see:
PCED 2004 - Section 0A - Introduction and Preface.pdf
PCED 2004 - Section 1A - Description and Operation.pdf
PCED 2004 - Section 2A - Diagnostic Methods.pdf
PCED 2004 - Section 3A - Symptom Charts.pdf
PCED 2004 - Section 4A - Diagnostic Subroutines.pdf
PCED 2004 - Section 5A - Pinpoint Tests.pdf
PCED 2004 - Section 5B - Pinpoint Tests.pdf
PCED 2004 - Section 5C - Pinpoint Tests.pdf
PCED 2004 - Section 6A - Reference Values.pdf
PCED 2004 - Section 7A - Metrics and Conclusion.pdf
​
If I had to choose the most important section, it would be the pinpoint tests of Section 5. There is so much that's good in here, it is kinda hard to choose, though.
_______
For the mods...
I tried to post this in the tech data section, but I got the error message shown: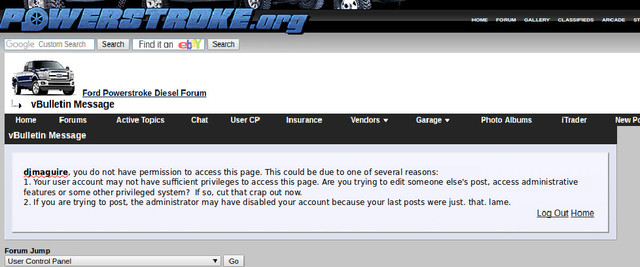 If you can move it there, that'd be great. ...and I promise to never try to post there again. Sheesh.
_______
Here are the qualifiers for anyone using the PC/ED that I scanned:
I believe that this document - being out of print - is able to be duplicated without issue. If you are overly squeamish in a copyright sense, do not so much as cast your eyes in the direction of these documents.
The PC/ED is for the late MY2004 and the information contained reflects that. Don't look too hard for the EGR throttle plate on your 2006.
The book was printed on - basically - tissue paper. That meant that the scans had to be light or the backing page would show through. It also made for crooked scans. It is what it is.
Seeing as I am posting it in the middle of the night, I will probably bump it a couple of times until I think that it has seen the light of day to a sufficient degree.
Enjoy.