The topic of harness chafing has popped up in a couple of threads today.
@mikeb01453
suggested posting information as a separate thread (this one). It seemed better than filling both of those threads with the same info.
So... the topic is chafing. Post whatever info or suggestions or comments ya got.
I'll start.
Chafing in general
Chafing points are an issue on any vehicle. They have specific importance on a turbo diesel due to vibration and heat - bad combo.
There are two documents that I have run across. I have attached them. They are:
Powerstroke 6L Wire Chafing - TSB 041806.pdf - A Ford TSB describing chafing as an issue
Powerstroke 6L Wire Chafing Locations.pdf - A photo document that some nice 6.0 person put together
In short, you are looking for a situation like this: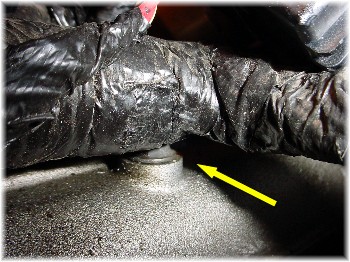 ...that has lead - or could lead - to a situation like this...
...with the intention of repairing - if needed - and reinforcing forever.
The attached photo document shows the locations that the author felt were important. When I was doing my oil cooler relocation, I referenced the document but also just traced along the assorted harnesses looking for my own issues.
A lot of addressing harness issues is making sure the the original clips - intended to affix a point on a harness to a nearby unrelated hole or threaded stud - are in place and position. The anchors/clips look something like this before being taped to the harness: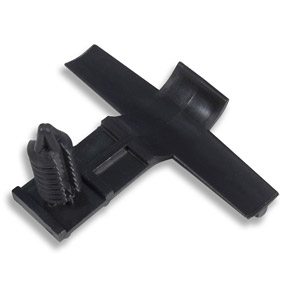 ...which is the kind that anchors to a hole. The kind that pushes onto a stud is particularly important because the stud that will hold the wire when properly attached will usually destroy the wire when not properly attached.
Often people working on vehicles will not take the time to reattach the harness clips to the attachment points.
My chafing elimination effort
I did not have any harness problem of which I was aware when I became interested in this. I was getting ready to do my oil cooler relocation and it seemed a great time to give the harness a good checking over.
I used the picture document as a jumping off point. But, mostly, I went along each harness to look for wear or causes of future concern - places where chafing might occur in the future. Wear points were repaired or retaped. Then, for those points and the points of concern, I reinforced the contact points.
My approach was to use short lengths (2"-4") of flexible PVC tubing of varying diameters (1", 3/4", 1/2") that I had cut into partial circumference segments that were typically 1/4 - 1/2 of the total. I put these segments against the harness bundle at the wear point (real or future) and affixed them with friction tape.
PVC tubing as purchase at Ace:
Partial circumference segments (viewed from the end):
I still look at those points when doing other maintenance and everything seems secure. If would take a lot of vibration and force for a stud to push through PVC, of course!
My harness problem immediately after my cooler relocation
I did run into one further harness issue soon after my oil cooler work was done. Symptom: Random stall while driving and at speed. Always when the vehicle was not completely warm ~ ECT=120F. Sometimes it would restart immediately. Sometimes, it required a wait.
I really didn't want to keep driving it because stalling is not fun. But I knew that I would not be able to find the problem unless I could experiment with the failure and monitor what was happening when it occurred. I could not see an HPOP pressure loss before the stall, but I could see that it would not build pressure when it did not start.
I found that I could force a restart if I pushed on the injector harness ground wire that affixes to the DS rear intake stud. That meant it was time to dig in.
It ended not being that wire at all, though...
Fairly forward in the injector harness where the IPR valve pigtail merges in to the main bundle, the insulation had melted due to heat. Some time before I had bought the truck, someone had not reattached the injector harness anchor point and the heat at the unsecured position melted the wire inside the outer casing. I suspect that my moving the harness during my oil cooler relocation aggravated the situation.
Pushing on the ground wire was actually moving the IPR valve wire way forward at the main injector harness bundle and allowing the restart. Such is the nature of harness problems.
So... I soldered a new high temp wire segment in place, insulated the solder connections, rewrapped with heat shield, reattached the harness anchor point, reinforced the possible points of contact with PVC tubing segments, and friction taped them in place.
_____________________________
Because of the attention that I devoted to chafing points - which really did not take so much time - I am not so worried about future chafing issues. I'll continue to look around for new points, though.
The PVC tubing segment approach is only my way of doing it. I am interested to know what else works and what might be better.
As stated way up top, please add to this in whatever way - approaches, locations, pictures, symptoms, etc.
...and, if you are the author of the picture document, please announce yourself and take a bow.
Hope this helps.