The tru cool is a great unit. Look at the transmission and follow the lines to make sure you remove the correct cooler. The very small like 6in by 6 in is the powersteering fluid cooler but again. Follow the trans fluid lines to make 150%.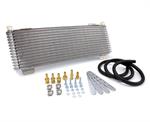 TRU-COOL 4739 TRANSMISSION COOLER 40,000 GVW ADD ON COOLER
the link above has good pictures of the install kit and even a kit for your truck with the cooler etc.