» Buyers Guide
» Network Links
LA Auto Show Coverage
Nov 20, 2014 - 1:01 PM - by AutoGuide.com







Quote:


Quickly becoming one of the world's most important motorshows, the LA Auto Show is packing a long list of big debuts this year.

From small crossovers like the Mazda CX-3 and Honda HR-V to outrageous performance machines like the Shelby GT350 and Cadillac ATS-V Coupe there's no shortage of important products.

On the luxury end Mercedes will relaunch the Maybach brand with an ultra-luxurious version of the S-Class while Bentley aims to impress with a new Mulsanne-based convertible.

Other big debuts include the BMW X5 M and X6 M, the 2016 Acura ILX, Porsche Cayenne GTS, the new all-wheel drive Jaguar F-Type, an updated Ford Explorer, Scion's new iM hatchback concept and a show car that will preview the future of Audi.

Additionally, the Connected Car Expo is back, showcasing some interesting concepts and technologies that can change the future of the automotive industry. Check it all out right here.


Read more about the AutoGuide.com LA Auto Show Coverage at AutoGuide.com.
0 Replies | 51 Views
Oct. 2014 ROTM winner
Nov 02, 2014 - 9:56 AM - by Rattlesnake18
Congrats to TheBigRig for winning the October 2014 ROTM contest!!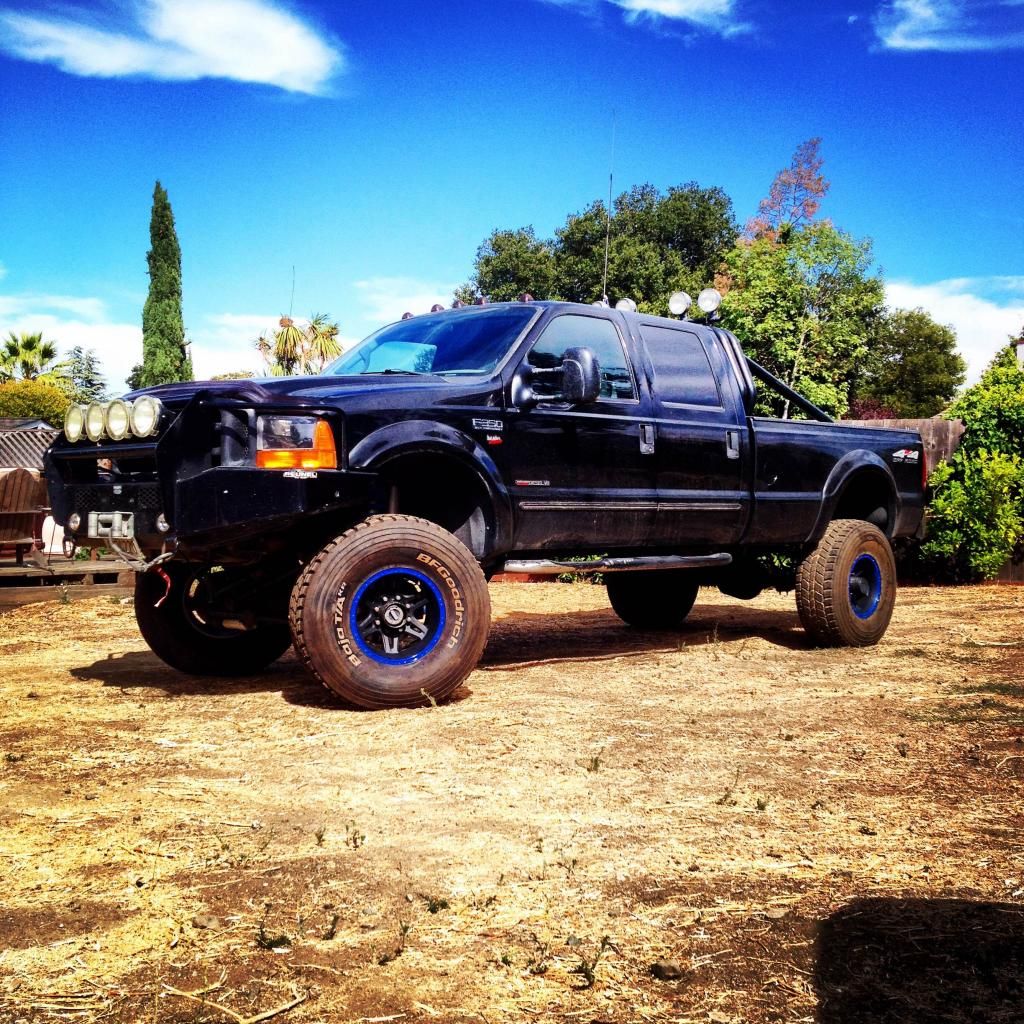 4 Replies | 415 Views
How about a little help...
Oct 19, 2014 - 12:11 AM - by B585Ford

This is not your typical thread….but it is DEFINITELY the most important thread I have ever started…
For those of you who may have missed it, one of our fellow members, Drewactual, did the coolest thing I have ever seen in all of my years of being on these forums. When one of our members, a wounded veteran that goes by Bearkiller, developed a problem with his truck, he came to this forum to seek advice. Ultimately that member's truck wound up at Rudy's. To make a long story short, that member was a little short on funds to get his truck fixed the right way. He did not ask for any help, but Drew took it upon himself to see that it was fixed right. Drew called Rudy's on his own and without telling Bearkiller what he was doing so that Bearkiller could not decline his offer and Drew paid the remaining balance. The forum I am referring to can be viewed at:
http://www.powerstroke.org/forum/6-4...-s-instal.html

To me, that demonstrated what a stand up guy Drew is. As it turns out, Drew did something even more admirable as you will see….I had decided that I wanted to try to do something for Drew for what he had done. My initial plan was to make a thread about his actions and ask members to chip in a few bucks to pay Drew back. I contacted one of the administrators for this site to see if he would agree to collect the funds and distribute them to Drew. The administrator liked the idea and was all in, but he wanted me to get Drew's permission first so I sent Drew a PM. Drew told me that he wasn't interested in... [Read More]
10 Replies | 1,753 Views
» Recent Threads

Rating

Title, Username, & Date
Last Post
Replies
Views
Lowered Ford Dually...

Today

05:28 PM

by

Tow'n Low

609

321,457

POST Your Lifted or...

Today

05:25 PM

by

31 YNOT

3

51

Check engine light glow...

Today

05:24 PM

by

karmaxul

5

77

CPA Chat Thread

Today

05:20 PM

by

strokinpower

115,134

2,674,529

What did you do to your...

Today

05:19 PM

by

351fifty

11,185

536,408

6.4 turbo/boost problem.

Today

05:19 PM

by

7.3LDriver

0

1

Ground cable next to ECM

Today

05:03 PM

by

TD-5

1

29

FNG

Today

05:02 PM

by

SuperCrutyPS

3

46

Dirt in Tank/Screen?

Today

04:59 PM

by

M3xpress

0

1

99-04 banner photo...

Today

04:58 PM

by

351fifty

30

846

Western PA New User

Today

04:54 PM

by

Yank066oh

5

44

F250 6.0 Leaking Oil...

Today

04:53 PM

by

Blue Goose

3

31

CCR Chat Thread

Today

04:52 PM

by

6.0Stroker

77,939

1,628,873

Got oil changed with...

Today

04:48 PM

by

MrOneEyedBoh

18

247

Oil cooler gasket change

Today

04:48 PM

by

White95f250

8

129

video showing air in...

Today

04:45 PM

by

bikesandcars

3

113

Help- truck cranks but...

Today

04:43 PM

by

jig42na

15

216

GO PURE POWER Filters

Today

04:37 PM

by

06Powerstroke1

7

209

Singles Thread

Today

04:35 PM

by

Colin7.3

6,859

150,192

TALKING SOOT WITH THE...

Today

04:31 PM

by

Blue Goose

27,357

766,493
» Stats
Members: 175,457
Threads: 346,520
Posts: 4,248,326
Top Poster: Dave (31,288)

Welcome to our newest member, 97chid
» Online Users: 1,936
236 members and 1,700 guests
04cr450, 06kingf350, 06Powerstroke1, 0760rmu927, 08TitanSE, 09SDLariat, 13Scott, 2005F4506L, 2014stroker, 2bagger, 2civicrr, 31 YNOT, 351fifty, 37Driver, 3dram8, 44magnum, 5ohcoyote, 64_strokin, 7.3LDriver, 7.3PSDMN, 82racin, 95_Powerstroke, 97chid, acjet88, AgTires4295, aquadreamin, Austen, Babyboy70363, bigstroke38, Bizzerk, bjk633, BlackBy4, blacksmoke powerstroke, Blowin'_Smoke, Blwnmstgt1990, bmoore1488, boozinag, bross45, Brown45, brscott38, bruteforcerider, buggy5872, bw544, c dog, caissiel, casper4203, cbrown137, chigl, Code3F250, Copperhead, cory403, corycicuto, CoUnTrY BoY TDT, crash&burn, dannyboy950, dantry, darkpassenger, DC14, dcaddy, Deathrod, dezert7, diesel212, dieselcrawler, Diezel Dawg, dnf12908, Dpeter, DrewGerhan, drivininidaho, Dwood, EK!, erbilabuc, erics diesel, Evelo241, evlvnm, factoryflood, farmer8, Fgroce, Fordpower6.0, FoReal402, fuze, geardriven, gmercer308, good2eat, Gordo1384, greyford, GridLine, HankY, HBandy, hdterry, Heathrm, Heavy_GD, Hellobatman, HMM, HoboCoastie, HP Junky, I B STROKEN '10, Imprtkllrz28, interzonearts, j.mo, jackfrazee, jake1, jarrett548, Jason G70, ja_cain, jbev59, JCU Delt Ox, jd2010, jeepzj94, jeffery_843, Jeffrow95, jesilvas, jetskier, jhunniford, jmhirshorn, joshsaul, jschins, jshalala, justin99, jvandehe, jvanwalsen, jwatkins, jwr1527, k8mlp, kafleming19, karmaxul, kcoyner, Krug, l8nitesurfer, Lilz9286, LOKAN6.0, Lrdchaos, LSSBoy, luke7.3, maddawg89, magilla_v6.0, MajorDave, Marcov12F250, mastertech79, mattdoxa, Matticus, mattl31, medic969, mfire23doc, mhecht, mheimer_45, mikegoslin09, Mitch925, montana6.0, mo_ten304, mparrado, mpvoss, mrbluedevil14, MrBrian, MrOneEyedBoh, mxz700, nacman, nc1yocum, nighthawk285, paulbunyan, peixinho, poppinjohnny, powerjoke73, Powerstroke 4 Life, powerstroken00b, powerstroke_99, Profarm72, PSDTV21, PTSUPERD, Punisher29073, pwrstrkect2009, RabbMan 6.0, rabpearson, Racerwannabe, raptorfever660, RCC, Redneckredbird, Reypac24, richman, RickyVaughn33, rlewis2, rlnation, Roadstroker, Roadwelder, rohlohl, Rustedbrit, Savagef250, sd2ca, sealeveloc, setxduckhunter, shabazz18, SharkDiver, shiz big red, shughey00, Six0~Stroker, sleepy steve, slick willis, Slowtherland, smoken81, smokeum99ta, Soop08, spert2, squirtgun, Steinbrenner, Sterling6.7, Stiles, StoneRhino, Storm95, stroke my d...iesel, Stroked06SD, strokethee06, strokinpower, supeman100, SuperCrutyPS, T diesel, Tanner97, thebierguy, thedude1980, Tim1216, toren302, Tow'n Low, Trucker, Truckman92, TwinTur8os, TXBrewer, UserError, usteffenhagen, wags1992, whistlinred, whiteout94, wingrider, Workman6.0, Xbox360, xmontex4, Yank066oh, zrain25
Most users ever online was 4,050, 05-31-2014 at 04:44 PM.