» Buyers Guide
» Network Links
AutoGuide.com Holiday Giveaway
Dec 10, 2014 - 10:08 AM - by AutoGuide.com







Quote:

It's been a spectacular year for everyone at AutoGuide.com and none of it would be possible were it not for you, our readers.

As a small token of our appreciation, we're happy to say that we will be giving away three prizes on Friday, December 19 and entering the drawing couldn't be easier...

Read more about the AutoGuide.com Holiday Giveaway at AutoGuide.com.
0 Replies | 102 Views
Nov. 2014 ROTM winner
Dec 01, 2014 - 6:13 PM - by Rattlesnake18
Congrats to luke7.3 for winning the November ROTM contest!!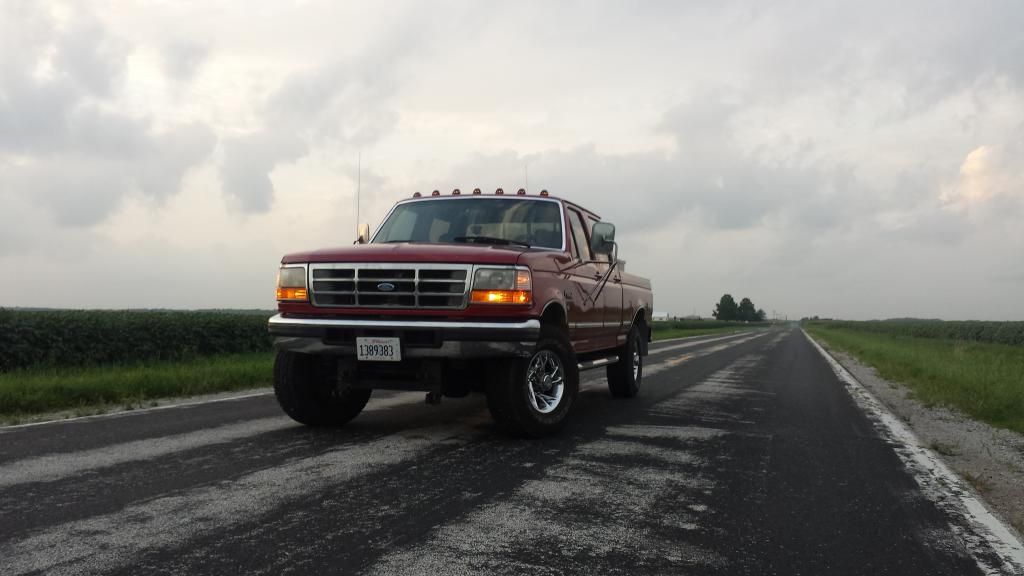 6 Replies | 390 Views
AutoGuide.com 2015 Truck of the Year: Part 1 of 2
Dec 01, 2014 - 5:28 PM - by AutoGuide.com




Quote:

There was a time when pickup trucks weren't expected to do anything but backbreaking work. Some people think of those as "the good old days," but I respectfully disagree.

Modern trucks are comfortable, luxurious and about as easy to drive a large crossover. It seems that families now depend on trucks as much as contractors do. Yes, these tools of the road have adapted to meet new needs and that leaves us with a particularly tricky task: deciding which one is the best of the bunch.

For the 2015 AutoGuide.com Truck of the Year, we gathered four new or significantly updated pickup trucks that hit the market in 2014. This ended up boiling down to one truck from each segment. We tested the midsize 2015 GMC Canyon, the half-ton 2015 Ford F-150, the three-quarter ton 2014 Ram 2500 Power Wagon and the one-ton 2015 GMC Sierra 3500 Denali.

... [Read More]
0 Replies | 479 Views
» Recent Threads

Rating

Title, Username, & Date
Last Post
Replies
Views
Pinky and the Tards

Today

08:28 PM

by

jse51599

5,862

157,831

"Pulsing" front axle...

Today

08:27 PM

by

sputnik801

0

1

trade 6.4 for 7.3...

Today

08:26 PM

by

Heavy_GD

12

316

my christmas display...

Today

08:26 PM

by

portcity_gt

6

98

Keep 12 F350 KR or go...

Today

08:25 PM

by

robertwhite

31

887

Walking dead anyone???...

Today

08:24 PM

by

jse51599

96

2,915

Grinding sound

Today

08:22 PM

by

corey5988

3

49

BD diesel exhaust...

Today

08:21 PM

by

DC87

90

8,622

Project Mad Maxie

Today

08:19 PM

by

TwinTurbo6.4

26

1,244

CSP chat thread

Today

08:19 PM

by

coassist73

25,659

558,978

What did you do to your...

Today

08:18 PM

by

jse51599

11,639

560,433

Coolant Flush/ReFill...

Today

08:16 PM

by

FX4X4

0

1

Interior Question

Today

08:11 PM

by

DinoB

4

99

Brake Help

Today

08:11 PM

by

NYC F-350

17

70

oil in coolant issues

Today

08:09 PM

by

els-

8

176

How long have you not...

Today

08:09 PM

by

FX4X4

8

152

Introduction

Today

08:09 PM

by

Fatboy01

0

1

any silverstar using out...

Today

07:59 PM

by

Heavy_GD

2

24

Check Engine light after...

Today

07:58 PM

by

Tell_Sackett

33

865

Singles Thread

Today

07:52 PM

by

Ontario Trucker

7,152

159,095
» Stats
Members: 176,227
Threads: 348,396
Posts: 4,269,899
Top Poster: Dave (31,336)

Welcome to our newest member, jaykerp86
» Online Users: 1,716
228 members and 1,488 guests
02stroker250, 04dieselduty, 08forddr, 09powerstrokee, 4x4ff, 6.0f250firstcar, 62alf, 7.3LDriver, 7.3PSDMN, 73rvhauler, 85moneypit, 95redrifle, acelefty, acjet88, Adamr_41, AllianceDiesel, alwil, amb82, Anth, Atem2144, Austen, azc9a7, AZGUY, Badger76, bamfdavid, bartoast, BIGGPIGG4x4, bigric, bigstroke38, bills7.3, Bizzerk, bmoore1488, borsky4, bozak, Brown45, brscott38, BryceB, bubblyjock, BWC, c dog, CaptainF350, CaryLab, casper4203, CeeDub, cement51, chevyguy85, ckrueg, CloverLeafFarm, cmoorescummins, coassist73, Code3F250, Colin7.3, Copperhead, corey5988, crash&burn, CrazyS0b, CSIPSD, CuLaytur, CUZICAN, dantry, DC87, defconfive, dennis93mustang, dgreggs2, dieselcrawler, dieseljohn401, dieselknudt, DieselTiger, Diezel Dawg, DinoB, dirtrider77, DirtyDSK, dnf12908, dr.deere, DrewGerhan, Dustin1, early 99 pwrstroke, Early99SuperDuty, elevateloren, Elky57, Elliott6.4, els-, F3super50, factoryoutnet, Fantom, fast_gto, fatbastardf350, Fatboy01, Focus1, fordboy11, forge1992, FX4X4, G8orFord, geardriven, gldubzakjr, gmercer308, GoldenGun, Gordo1384, Gotdust?, graysmurf, GTO Slayer, harley140, HBandy, hdfattboy2001, Heavy_GD, Hellobatman, hellraiserford, Hfd137, High Desert Drifter, hopeitlasts, I B STROKEN '10, jag6510, Jake Swint, Jake117, Jason G70, jaykerp86, ja_cain, jeffery_843, jeostang, jetskier, jimmy21480, jmsmith76, johnny13, jse51599, junior125, jwr1527, k7lvo, kafleming19, keaton6.0, Keel056, KRF250, KVB-R, Lilz9286, loganjj27, loubrock72, LSSBoy, majorgator, Malakas, marcusf250, MartyG, mattdoxa, Matticus, Matty8734, Mcamnl, mfire23doc, mheimer_45, mhutch2, mike3767, mkschrag, mossyoak, mo_ten304, mstng46, mtford, MtHigh250, mts678, MurderedStroker, mySIXOisSick, nacman, Nazdreg, newfie6four, NEWT92, nighthawk285, NorcalPSD925, noslofivoh, NYC F-350, oregoncalfroper, p8ntballn2, portcity_gt, POWER-STRUCK, Powerstroke 4 Life, powerstroke popo, powerstroke6.7, powerstroke977.3, Protronics00, PSD POWER007, PTSUPERD, Pull-N-TugTX, pwrstrkect2009, Rattler1, Rattlesnake18, ReelyNauti, RickyVaughn33, Roadwelder, robertwhite, rocknmj, sbluke55, scagle1, scparrish, Serial Fordicator, setxduckhunter, sgschwend, Shim, shiz big red, Six0~Stroker, six_ohAggie, sleepy steve, slvrblt00, snobdds, ssdeuce, StarDriver, Sterling6.7, StoneRhino, stroker_1999, StrokinRyan, Tell_Sackett, thedude1980, Tim C, tinglef, torque beast, TwinTurbo6.4, United sign, USAF-FD-NJ, UserError, usteffenhagen, whiteout94, wick07, wikdslo, wildkard13, Willymutt, wingnut, wrj, Xbox360, XPLOSIV, Zander10893, zman111
Most users ever online was 4,050, 05-31-2014 at 04:44 PM.