Compression Ignition Addict
looking for exhaust
---
im looking for the best price on a 4" turbo back exhaust for my 01 long bed crew cab dually, i just want straight pipe no muffler,cat or a tip.
---
Jason, But you can call me Sir!!!
2001 F-350 CC Dually~Built and tuned by PHP~572/1161ft lbs fuel only~few LEDs here and there
GOPOWERHUNGRY.COM
Slacker
Join Date: Dec 2006
Location: Surprise, Arizona
Posts: 18,620
Thanks: 16
Thanked 225 Times in 196 Posts
Mentioned: 23 Post(s)
Quoted: 166 Post(s)
Feedback Score: 4 reviews
Talk to the guys at Performance Truck Products. Great deals and awesome service!
---
Shawn Carlson
EvilEye@powerstroke.org
Proud Navy Vet
2005 F250, CCSB, 6.0 PSD, FX4 (The Sweet Unit is white)
2008 F350, CCLB, 6.4 PSD (Brad-the wife's truck is black)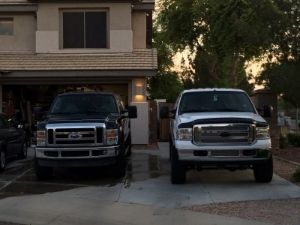 Engine Mods:
Fluidampr
CCV Reroute (Reinstated)
4" MBRP Exhaust
MTW Stage 1 Turbo
Bulletproof 53V FICM
BulletProof EGR Cooler
BulletProof Water Pump
Riff Raff Intercooler Boots
Gogo Diesel Direct Drive Solenoid
BulletProof All-Aluminum Radiator
BulletProof All-Aluminum Intercooler
BulletProof Oil Cooler System w/ Bypass Filter
SCT w/ Custom Tunes (TSD, DJ's, Innovative, Gearhead, QuickTricks)
Exterior Mods:
Bilstein 5100 Shocks
Icon Adjustable Trac Bar
Firestone RideRite Air Bags
BDS Dual Steering Stabilizer
Aluminum Finned Differential Cover
Reese 16k Manual Slider 5th Wheel Hitch
Icon 2.5" Leveling Kit w/ F-350 rear blocks
20" BMF Novakanes wrapped in 33" Nitto Terra Grapplers
Compression Ignition Addict
Join Date: Mar 2008
Posts: 2,374
Thanks: 0
Thanked 4 Times in 4 Posts
Mentioned: 0 Post(s)
Quoted: 0 Post(s)
Feedback Score: 0 reviews
Thanks buddy!
Give me a holler, I will take care of you.
---
ICON Vehicle Dynamics | S&B Intakes | MBRP Exhaust | American Force Wheels | Diamond Eye | AFE Intakes | Carli Suspension | Industrial Injection | Garrett Turbos | FASS | Method Wheels | Bilstein Shocks | Airdog | KMC Wheels | Spartan | RSouth Bend Clutch | SCT | Edge Products | ATS Diesel | Bullydog | BMF Wheels | AMP Research | & much more....