NTxPSA MEETING: Cracker Barrel, Grapevine, Sat. Aug 16 , 2008 9AM!
---
All,
Since the Breakfast Meet back in January went so well we thought we would bring it back again.....
What:
Breakfast Meet
When:
August 16, 2008
9AM
(I will get tables ready before that time, so please be on time)
Where:
Cracker Barrel Old Country Store
2700 N Grapevine Mills Blvd
Grapevine, TX 76051
(972) 874-2325
Please let me know if you are coming as I do NEED a headcount so I know how many seats will be needed. Post here or Email me,
Kevin@northtexaspowerstrokes.com
Don't forget to bring the WHOLE family
We will go over a few things after breakfast about upcoming events and meets!
Hope to see everyone there Bright and Early!!!
---
Kevin "Big K" Neal
President
North Texas Power Stroke Association
kevin@northtexaspowerstrokes.com
www.northtexaspowerstrokes.com
972-768-7252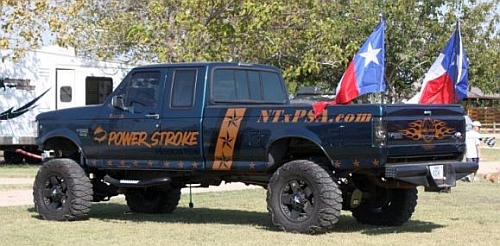 She's paid for!!!!!!
Join Date: Apr 2007
Location: Roanoke, TX
Posts: 661
Thanks: 0
Thanked 1 Time in 1 Post
Mentioned: 0 Post(s)
Quoted: 0 Post(s)
Feedback Score: 0 reviews
I'll be there, work permitting.
---
Aaron-
LoneStar PowerStrokes,NTXPSA, NHRDA member
'02 F-350 XLT Crew Cab SRW, 7.3 w/ 4" exhaust turned down past front of bed, Superchips programmer, custom intake w/ S&B filter,foil delete, Stealth ZooDad mod, 20" Raceline CR2 Black, '07 Harley headlights, HPX line, Mag-Hytec diff cover.......... more to come!!!
Premium Member
Join Date: Nov 2006
Location: DFW
Posts: 2,627
Thanks: 0
Thanked 1 Time in 1 Post
Mentioned: 0 Post(s)
Quoted: 0 Post(s)
Feedback Score: 0 reviews
Looks like we will be there as well.
Kevin, show three for me please.
Will rain Saturday so no motorcycle ridin,,,,,
---
Paul
2005 F250 4X4 CC 6.0 FX4 Lariat
All stock
Lots of Toys, cylinder count is now 31: