Steering Stabilizer Question
---
So two things first.. yes I used the search, and no I dont know alot about steering and suspension so bear with me.
So here are a few pics of my front end underneath.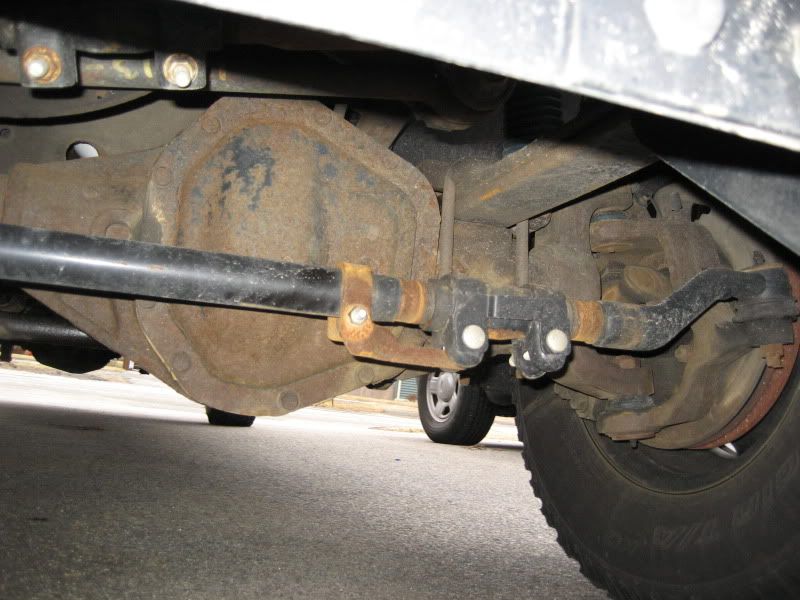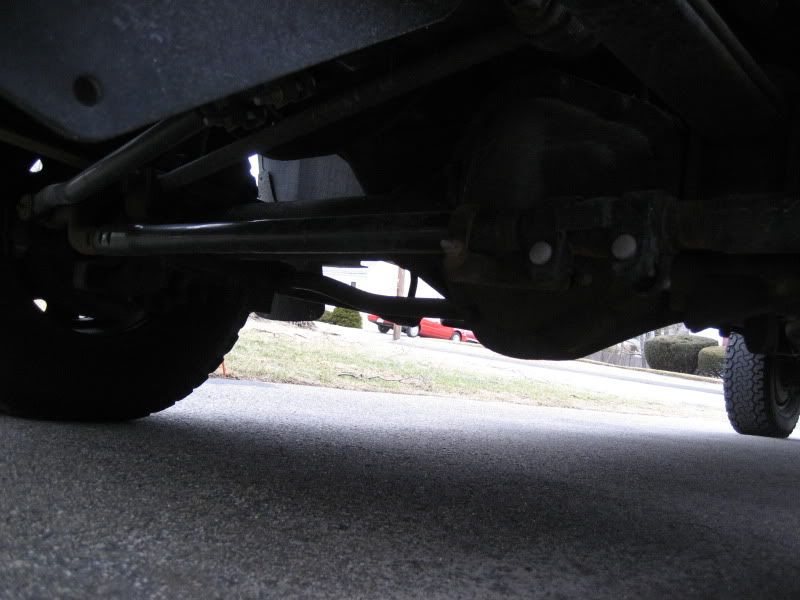 Obviously, (i think), there is no stock steering stabilizer. I have a plow on my truck, and am having bigger 33's put on this thursday. Do you all think a dual kit would work for my truck, and benefit me? I just had the whole front end rebuilt totaling $3k, so anything to lessen the load up there would be awsome. I read this on tough country's web site: "Steering stabilizers are designed to restrain "bump steering" and front end vibration, giving added life to tires, ball joints, and other steering components. A multiple stabilizer kit is recommended for vehicles equipped with a snow plow, winch, or 35" tires and above." Reading that, and combined with the fact that all my friends have always said my steering was 'rough' and 'tough' has basically got me to asking this.
And if I had a stabilizer, or were going to put a dual kit in, where does it bolt up, or is it even just a bolt on? I have mechanical abilities, just dont know technical names etc about the suspension and steering areas. Any recommendations on good kits on a budget?
Thanks!
(And sorry about my lack on knowledge lol)
---
2002 F350 7.3
PHP FU, Isspro's, DIY Intake, 5" Stacks, WW, 08 Mirrors/Gate/Tails.. etc
Pics and full list of mods
To view links or images in signatures your post count must be 10 or greater. You currently have 0 posts.

Waltham, MA

To view links or images in signatures your post count must be 10 or greater. You currently have 0 posts.

Looking for an 8 foot bed in the New England area!
If you have one, or know who does, please PM me.
Smoke Eater
i just put a dual kit on my truck friday.... makes a world of difference imho... everything just has a lot better feel to it... alot less what i call steering roll and when ya hit bumps and grooves in the road the steering wheel dont veer or roll away like it did before
---
2007 F-250 Lariat Crew Cab
SPL LED Lightbar
20" Fuel Rims
35" Nitto MT's
SCT Livewire w/ Tony Wildman Tunes
PMM Full EGR Delete/ Coolant Kit
Hornblasters 540 Kit
LED Lightiing All Around
All kinds of other Goodies!
2005 Lariat Crew- GONE!
2011 Lariat Ultimate Crew- GONE!!!
Back in a 6.0hhhhh and lovin it!