Dog Behavior Help
---
I have a 3 year old staffordshire terrior, tasha. She is the light of my life.... My princess... She is insane at times to the point where I have gotten a correction collar, works like a charm but when she goes insane she has no idea what she is doing. She doesnt understand dominance and other dogs do and its becomming a real problem.

My future wife has 3 dogs. One is a 7 year old mountain feist, one is a 7 year old beagle and one is a 8 year old beagle german shepard. The mountain fiest is probably the worst dog I have ever been around, she is nasty and mean but she can be so sweet. She makes all the dogs nervous because of a trait this breed has. The dog cannot let any other dog be happy or excited, they want calmness all the time.

My tasha is so nervous all the time that I just dont know what to do anymore. All she has ever been is happy and just a non stressed dog. She has her quirks and I am hoping sooner than later she will calm down. She is so obediant except when she goes into these modes where she is just insane.

Any help or pointers would be appreciated.
---
1999.5 Ford F-250 Powerstroke
7.3 Powerstroke Diesel
4" Turbo Back MBRP with 6" Tip Straight Piped!
DIY Intake
Isspro Gauges
Diesel Site Coolant Filter
TW 6 Position Chip
2.5 Inch Leveling Kit
305/75/16 Mickey Thompson MTZ's
239k and COUNTING!!!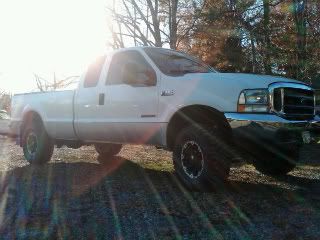 Compression Ignition Addict
Join Date: Oct 2011
Location: Dover
Posts: 1,634
Thanks: 1
Thanked 0 Times in 0 Posts
Mentioned: 0 Post(s)
Quoted: 1 Post(s)
Feedback Score: 0 reviews
I know a lot of people laugh at him but that Cezar Milan "dog whisper" has the right ideas!
If you watch a few of his shows and use those techniques that will help you with all the dogs.
Unfortunately your future wife will need to adopt some of these also to help with her dogs.
Old dogs can learn new tricks, they just don't want to! Lol