Stupid Driver
---
Last night coming home from a local hang out. I had an idiot pull out in front of me. This idiot was lucky it was a two lane rd. He is lucky I was able to swerve into the other lane.

I just left a stop light, the lane I was in was ending. I merged over into the left lane. I went around him and got in front of him before the right lane ended.

Then this idiot decided he wanted to tail gate me.

Now we all know when you drive a modded diesel you have a cure for tailgaters.

Yes I flip the switch to the extreme 140 position. I loaded up the engine and then romped the throttle leaving the idiot in a cloud of black smoke. Needless to say he stayed well behind me after that. I put my chip back in the 75 position. Then Cruised home.

If he waited two seconds longer he would have had Ford tattooed to his forehead from my grill.
---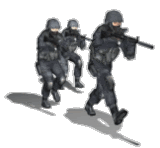 Your Actions Today, Decide Your Future Tomorrow
2005 6.0 Crew Cab Long Box Lariat, current truck
2004 6.0 destroyed by contaminated fuel
2002 7.3L burnt
Compression Ignition Addict
Join Date: Jul 2007
Posts: 5,627
Thanks: 7
Thanked 15 Times in 15 Posts
Mentioned: 0 Post(s)
Quoted: 5 Post(s)
Feedback Score: 0 reviews
sweet...the ol face full o' soot maneuver........i hate jackazz drivers........i mean can you really be in that much of a hurry that you have to pull out in front of someone to save yourself the two seconds????
---
Quote:
Originally Posted by Ianstew
There is a difference in a government acting responsibly within their powers, and a government that just decides what their powers are and what responsibility means based on political whimsy.