Christmas in general...
---
I just cant get into the holiday spirit. I mean every other year before I bought a house it was great, I used to be the best gift giver but now with credit cards, mortgage and the like its just no fun anymore. I have stopped using the credit cards for sometime now and being broke just plain sucks.

I don't even want to get a tree, I just cant get into the spirit. I love to watch my nephew enjoy Christmas and my dads been helping me with stuff and I cant even begin to repay him for all that he has helped me with and I feel really bad that I cant get him something really nice to show my appreciation... I never ask for help and he just sees that I do and he comes to fix stuff with me and help me out in general. Without him I wouldn't have a new furnace or air conditioner amongst other things. I could have paid for it on one of those low interest rate credit card checks but he stopped me and forced a check in my hand, 2500 bucks was 2500 bucks and it was a deal but I felt like crap for taking it, it actually made me cry. I have never ever taken money in all 28 years that I can remember.

I dont know why I make this post but I am at work as usual and its just bah humbug to me right now... Maybe its because I am single or because I work all the time. Just wish I could get into the spirit...
---
1999.5 Ford F-250 Powerstroke
7.3 Powerstroke Diesel
4" Turbo Back MBRP with 6" Tip Straight Piped!
DIY Intake
Isspro Gauges
Diesel Site Coolant Filter
TW 6 Position Chip
2.5 Inch Leveling Kit
305/75/16 Mickey Thompson MTZ's
239k and COUNTING!!!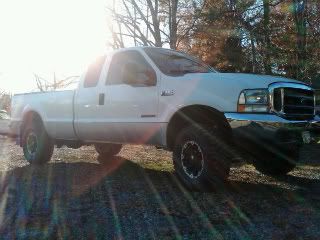 Shaking the Bush Boss
Join Date: Feb 2007
Location: Salisbury, NC
Posts: 9,740
Thanks: 0
Thanked 0 Times in 0 Posts
Mentioned: 0 Post(s)
Quoted: 0 Post(s)
Feedback Score: 0 reviews
if you ask me, You aint missing much! Christmas is for the kids, as long as they have a good time and enjoy it, thats all I care for. Me, could care less about it...I hate tring to go to the store for a simple purchase....takes forever. People are to preoccupied singing or humming not paying attention to what they are supposed to be doing.

It dont bother me being called Mr Grinch!
---
Chuck
Compression Ignition Addict
Join Date: Mar 2008
Location: Centreville, Alabama
Posts: 996
Thanks: 0
Thanked 1 Time in 1 Post
Mentioned: 0 Post(s)
Quoted: 0 Post(s)
Feedback Score: 1 reviews
Be thankful and do the best you can. Get him a pocket knife or something. Anything coming from a son is great especially a hug. I just left the hospital for reasons I won't share here but be very thankful. My nephew would love to just have your problems, I know I wished he did, I'd easily parted with money to help him out.
---