Huge (hopefully) May Gtg
---
Well, since this last Multi-Club meet was a pretty good success, we decided to try an even bigger Meet for May. I know it's still a little ways away, but i'm putting it out early so we can try to get the word out as much as possible.
Any 4x4 is welcome big or small.

Fuddruckers
1271 Route 22 West
Bridgewater, NJ 08807
Sunday, May 15th @ 2pm till whenever
(908) 253-3833
Fuddruckers wants 100 trucks or more, hahaha. So let's pack this place w/ as many vehicles as we can!
If you have any questions, or need directions, contact landyacht27 or myself (Aronda1125). I'll be sending out the usual pm to everyone on my Contact List as the date gets closer as a reminder.
---
'05 F-350 X-Cab LB,
Lev. Kit w/ 35" MT's on XD Monsters, SCT w/ DJ's Looney, BPD 48v FICM w/ Atlas 40, Straight Piped, Autometer Gauges & Edge Insight CS, S&B Intake, AccuFab Elbow, Sinister Coolant Filter & EGR Delete, ELC Coolant, Recon Lights, Kenwood Stereo w/custom box, '08 Tailgate/Rear Bumper/Console/Banjos/Trans Pan/Rear Diff Cover, Harley Headlights w/ HID's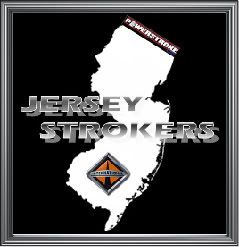 Jersey Strokers Apparel
Jersey Strokers Director
Alright guys, here's the ad that Dave (landyacht27) came up w/ for the Big May Meet. I'm gonna have some printed out and stick them on the windshield of any diesel I see parked! If anybody wants the Ad file to print them out yourself, just shoot me a pm and i'll send it to you. Alex.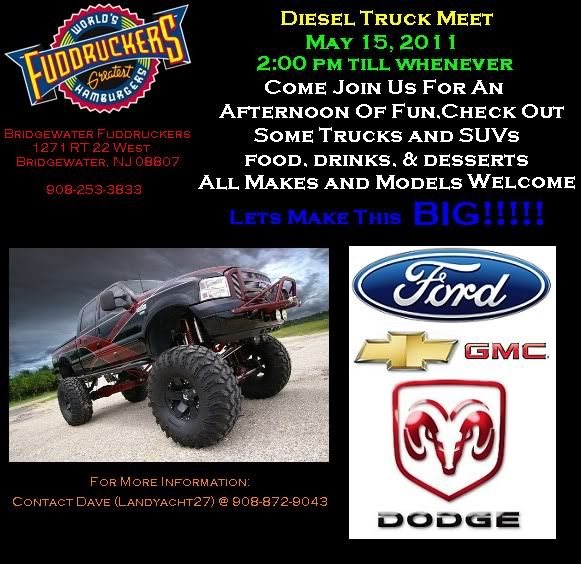 ---
'05 F-350 X-Cab LB,
Lev. Kit w/ 35" MT's on XD Monsters, SCT w/ DJ's Looney, BPD 48v FICM w/ Atlas 40, Straight Piped, Autometer Gauges & Edge Insight CS, S&B Intake, AccuFab Elbow, Sinister Coolant Filter & EGR Delete, ELC Coolant, Recon Lights, Kenwood Stereo w/custom box, '08 Tailgate/Rear Bumper/Console/Banjos/Trans Pan/Rear Diff Cover, Harley Headlights w/ HID's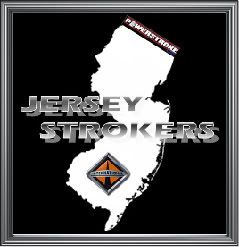 Jersey Strokers Apparel