2 kills
---
This happened on tuesday but I never posted it
was on my way home tuesday. me and my buddy are cruising in the truck and the feeder/service road and pass this older rx7 or 24oz or something. Not really sure what it was, but as soon as we saw it we started laughing. Had the huge wing on the back, and not 1 but dual fart can mufflers, and a 5" monster tach bolted to the dash.
well he was turning on from a side road right as we passed him. I let off the gas and downshifted to 4th waiting for him to cathc up and about the time he got the the back of the bed I nailed it and off we went. He was already "screaming" and we were about neck and neck then had to let off becuase of cars in front of us.
had it not been for traffic he would of been tucking tail between his legs. I was already starting to pull on him.
Next one was a few miles down the road. We were merging on the highway and there was a S2000 right behind me. the guy had been getting close. You could tell he was the impatient type. Hated being behind people. as soon as he gets a chance he jumps into the next lane and tried to pass me.. Unfortunately for him Wildman has some good tunes and I started to pull on him till we hit about 80 and I shut her down. He wouldn't even give me the "look" when he decided to pass me...
I love having a 9000 pound truck that will outrun these little cars!
---
John Wayne

Owner and Operator of the
REDNECK VALDEZ
You can find me on
FaceBook

Emergency Services
haha thats great. my brother had an s2000 it was a piece of junk... but great kills because those 1/8th of your wieght
---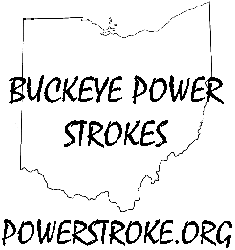 On vacation from a truck for a year or...
Looking at 6.4s Moving in a few months then hopefully buying my dream truck!!!
Driving an Audi till then...
but at work I drive
16 E-450s 7.3 powerstroke Ambulances
7 Duramaxes
1 GMC Kodiak Ambulance
NO CUMMINS.....
Compression Ignition Addict
Join Date: Apr 2008
Location: Dallas
Posts: 2,306
Mentioned: 0 Post(s)
Tagged: 0 Thread(s)
Quoted: 0 Post(s)
Thanks: 0
Thanked 0 Times in 0 Posts
Feedback Score: 1 reviews
---
F250 reg cab short bed