They always come back for more!!!
---
So I was out and about, heading to the coffee shop to meet some friends tonight. My plan was to take the next turn off to the bank, and deposit my cheque, then to the 24hr store for some smokes.

Im sitting at the light, double lane. I notice in my rearview mirror that a ford sport trac is coming up behind me. black, xlt, looks like the same guy I raced before. So I sat at the light and waited to see if he was going to try me again if he remembered what happened last time.

light changes to green and sure enough he floors it then backs off a little, now I wasnt spooled because I wanted to see what he was going to do. so I get up to about 30km/h and then floor it when my boost is good. get right beside him and my windows are down and hear his V6 SOHC scream. But his starter to fall behind, I keep in it to about 120km/h (straight road) and then back off for the light ahead of me, I have to come to a complete stop, and Im watching him come up to the light only hes hanging back, and floors it before it goes green, so now Im left trying to catch him... 2 cars behind but gaining.

he is in the slow lane and now one car length in front of me, but hes got cars in his lane so he starts to brake. I come up beside him look over smile and wave he does the and then I remembered I missed my turn off in all the excitment and had turn around and go back. so I ended up being late to the meet. but all worth it.


The last time I think I posted this a few months back.

I was sitting at the light and the guy came up beside me. I had my gf with at the time, but he sat there revving his motor. honestly its a V6, doesnt sound good. and my gf looks and laughs, but I wasnt trying anything. then he takes off. I look at my gf and said its on and hes done. she smiles back. pull up beside him and power brake light goes green, and boom I instantly have 5 lengths and pulling away hard. then turn off. my gf just starts laughing and says " That was cute". she says that about anyone we beat. and I say we because she eggs me on to kill them.

However I choose my battles right now with being stock. but when that SCT comes, thats a different story.

well I did race a 2006 Z06 onenight, knowing he would destory me. however even stock I beat him off the line for about 2 -3 seconds then he was gone for good... not close at all lol. I gave that one up at about 40km/h haha.
---
2006 F-150 5.4L Lariet Crewcab 5.5 box Black on Black fully loaded 4x4

No Longer: 2003 6.0 PSD F-350 EXT Cab, Longbox, 4X4, SRW
SCT Xcal3 From DJ's
AEM Brute Force Intake
MBRP 4'' Turbo Back w/ Muffler and Cat Delete
Dual Pod with Silver Faced Stewart Warner Gauges Boost and Pyro
High Idle Mod
8'' Lift
37'' Tires
20'' Mags
Chrome Handles and Mirrors
Billet Grill
The Lady Mod
The little boys just never learn do they? LOL They just want to play with the big kids is all!
---
Granny aka Terri
granny@powerstroke.org
04 F250 CC 6.0L PSD 2WD
A Few Ponies Under The Hood
Wrenches Turned by Trucks Unlimited (Thanks Scott!) and NPCCPARTSMAN
Injectors by Ryan Casserly of Full Force Diesel
Turbo by KC
Oil Cooler by BulletProof Diesel
SCT Custom Tuning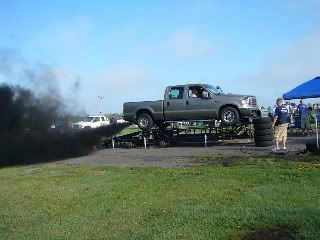 Strokin' In Dixie-Land
Join Date: Jan 2007
Location: Troy, Alabama
Posts: 2,393
Mentioned: 0 Post(s)
Tagged: 0 Thread(s)
Quoted: 0 Post(s)
Thanks: 0
Thanked 0 Times in 0 Posts
Feedback Score: 0 reviews
Quote:
The little boys just never learn do they? LOL They just want to play with the big kids is all!
Yeh - the 'little ones' are probably thinking "Man, I wanna' be like that when I grow up"
---
:burnout :burnout :burnout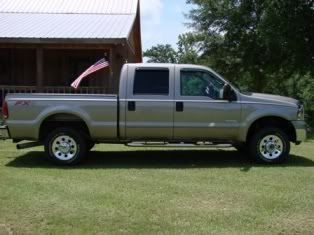 2005 XLT 4x4 Crew Cab 6.0. Torqshift Auto. Arizona Beige.
Mods - 4" FBD Turbo-Back Exhaust with Free-flow Muffler. Power Intake Elbow from Dfuser. Bug Shield. Vent Shades. Aries Step Bars. Custom heavy-duty floor mats. High Idle Mod (great!).
haha - what is that guy thinking?!?!?!
oh, you do know that those sport trac's can come with V8's now