New to me Powerstroke
---
Greetings.....................I recently bought a 7.3 crew cab, dually F-350 with 6 speed man tranny...............I had a early 5.9 cummins, standard cab auto that I hauled T.T. out of Goshen, all over the country.
I plan on using the crew just for pulling my 5er ,RV .................it needs a little freshing up, seats wise, and I am making it my own, adding my Air horns, chrome air compresser from Viair. and a few other items.....using it only for towing, and no winter driving.............2 wheel drive.(OK 4 wheel , dually)
................going to add air tank, and compresser off frame, saw some great ideas on this on a RV forum.
It has a Diablo chip, but so far see no 3 way switch controller...so, it may not function ....oh well.
Just wanted to say HI...................being an old Blue oval guy, coming off a Good 5.9 Cummins'................Good to be back to the oval.
---
Last edited by bfast54; 02-27-2013 at

05:55 PM

. Reason: spelling
Cowgirl forever!!!
Join Date: Jan 2012
Location: Spartanburg,SC
Posts: 3,323
Mentioned: 0 Post(s)
Tagged: 0 Thread(s)
Quoted: 2 Post(s)
Thanks: 0
Thanked 19 Times in 19 Posts
Feedback Score: 0 reviews
welcome to the org!!!
---
Jess
01 F350 Crew Cab 4x4 7.3 once again!!
MBRP 4'' Turbo Back and Chrome
05 Grille
Carolina Powerstroke Assocation member
LIFE IS TO SHORT SO RIDE A FAST HORSE!
Super Moderator
Join Date: Jul 2008
Location: Orangevale, CA
Posts: 14,163
Mentioned: 1 Post(s)
Tagged: 0 Thread(s)
Quoted: 28 Post(s)
Thanks: 58
Thanked 352 Times in 337 Posts
Feedback Score: 0 reviews
Glad to have you -
to the ORG!!
Congrats on the truck bringing you back to the Oval!
---
Owner / Operator:
Darryl
My Truck:
2001 F350 | 7.3L PSD | 4R100 | Crew Cab | Long Bed | 4x4 - 22
2
,000 miles -
10 Years of ownership
Mods:
Autometer Z-series Gauges | K&N GenII FIPK | MBRP 4" TB Exhaust | Hypertech PP3 | Toyo OC ATII (LT285/75R16 "
E
") | SilverStar 9007/9145 | Dura-Flap Mud Flaps
Usage:
DD | 5er Puller
Tow Toy:
Pilgrim International 31RE3SLF5
U.S. Navy
- IC2 - '76-'80
Other vehicle is an F250
Join Date: Jul 2007
Location: N. Pickens County S.C.
Posts: 18,321
Mentioned: 0 Post(s)
Tagged: 0 Thread(s)
Quoted: 0 Post(s)
Thanks: 0
Thanked 1 Time in 1 Post
Feedback Score: 0 reviews
Welcome to the org.!
---
2001 F250 Lariat Crewcab, Automatic, 4X4
(Late '99 Regular Cab Work Truck)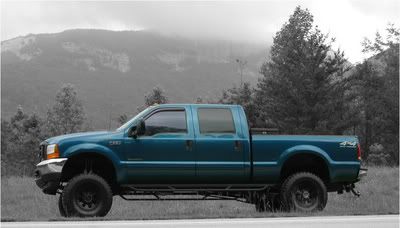 6.5" Pro Comp Lift ~ Traction Bars ~ Son-Built Sliders ~ 16" Pro Comp Xtreme Wheels with 35" BFG TA KM2s
4" Banks Exh.-Power Elbow ~ Wicked Wheel ~ DIY
AMSOIL
EaAU4090 Intake ~ PHP 6 Pos Chip ~ LowDown LED Upgrade
Stage 1 Injectors ~ HankDaddy
Mod. ~
BUILT TRANNY!
352 HP Shootin' for 375!
CAROLINA POWERSTROKE ASSOCIATION