Chicago-land area
---
Hey everyone, My front-end locked up on me and I cannot go forward, not even in neutral soooo... I take it the gears in the front are eating themselves or whatever it is will take some work to the front end....

I need someone up in Chicago that Can get their hands on a Dana 60 front for my 97 F-250.. and If anyone has a place to work on it would be a lifesaver. My dam truck cannot even move. I talked the tow truck driver down to 25 bux lol

Looking for complete Dana60 500-1000 bux and somehelp. Thanks
Lewis 7738926621
---
Class of Aug 17, CFD
Compression Ignition Addict
Join Date: Nov 2005
Location: Far From Bieber
Posts: 2,069
Mentioned: 0 Post(s)
Tagged: 0 Thread(s)
Quoted: 0 Post(s)
Thanks: 0
Thanked 2 Times in 2 Posts
Feedback Score: 0 reviews
Just regear?
---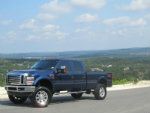 2008 F-350 CCLB
2004 F-250 CCSB (sold)
1997 F-250 CCSB (sold)
1994 F-250 ECLB (sold)
a truck
Join Date: Nov 2007
Location: Lima, OH
Posts: 13,142
Mentioned: 0 Post(s)
Tagged: 0 Thread(s)
Quoted: 0 Post(s)
Thanks: 0
Thanked 0 Times in 0 Posts
Feedback Score: 0 reviews
are you needing someone to pick one up for you or are you looking for someone that is selling one in the area?
---
03 king ranch w/ a cummins
COLLEGE KID
selling one. Maybe just re-gearing would be another solution, I also need someone in the city with some kind of workspace that would be willing to let me bring my hunk of junk over to fix.
---
Class of Aug 17, CFD
Compression Ignition Addict
Join Date: Mar 2007
Location: Chicago
Posts: 170
Mentioned: 0 Post(s)
Tagged: 0 Thread(s)
Quoted: 0 Post(s)
Thanks: 0
Thanked 0 Times in 0 Posts
Feedback Score: 0 reviews
I have a 78-79 Dana 60 kingpin axle. Would need to weld a new passenger side perch on as I cut it off with plans to put it in my Chevy and never got around to it. It's complete from spindle to spindle. I have a set of calipers and and hubs for it. You would just need to get hub bearings and hub lockouts $800. I'm on the northside by Harlem and 90