any chance of tapatalk?
---
i can not find the site as on the tapatalk user list. is there any way to make the site user friendly for the tapatalk members?
my only b*tch thanks arick
---
The toes you step on today, may be connected to the aZZ you kiss tomorrow.
2007 6.0L 4x4 its got a bullet proof egr cooler,two sets of D-plugs, blue spring return valve, air raid filter,with the zood, B&W hide-a-hitch.
Slacker
Join Date: Dec 2006
Location: Surprise, Arizona
Posts: 18,362
Thanks: 16
Thanked 207 Times in 179 Posts
Mentioned: 16 Post(s)
Quoted: 110 Post(s)
Feedback Score: 4 reviews
No, AutoGuide has their own mobile app, so tapatalk isn't supported on this site.
---
Shawn Carlson
EvilEye@powerstroke.org
Proud Navy Vet
2005 F250, CCSB, 6.0 PSD, FX4 (The Sweet Unit is white)
2008 F350, CCLB, 6.4 PSD (Brad-the wife's truck is black)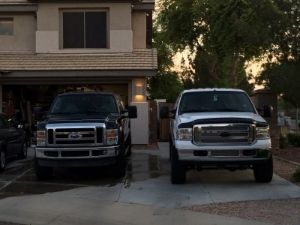 Engine Mods:
Fluidampr
CCV Reroute (Reinstated)
4" MBRP Exhaust
MTW Stage 1 Turbo
Bulletproof 53V FICM
BulletProof EGR Cooler
BulletProof Water Pump
Riff Raff Intercooler Boots
Gogo Diesel Direct Drive Solenoid
BulletProof All-Aluminum Radiator
BulletProof All-Aluminum Intercooler
BulletProof Oil Cooler System w/ Bypass Filter
SCT w/ Custom Tunes (TSD, DJ's, Innovative, Gearhead, QuickTricks)
Exterior Mods:
Bilstein 5100 Shocks
Icon Adjustable Trac Bar
Firestone RideRite Air Bags
BDS Dual Steering Stabilizer
Aluminum Finned Differential Cover
Reese 16k Manual Slider 5th Wheel Hitch
Icon 2.5" Leveling Kit w/ F-350 rear blocks
20" BMF Novakanes wrapped in 33" Nitto Terra Grapplers