Our hunting video promo
---
Check out my promo video, and let me know what ya think. This isn't the final cut, just trying to get some feed back. And of course I got the powerstroke in it. lol
YouTube - ejerzy1's Channel
---
97 F350 stage 1 injectors, evolution edge, 4" diy intake, 3"down pipe, factory idle controller, 4" lift, 35" big o xt's, custom front end
Mountain States Custom Metal Art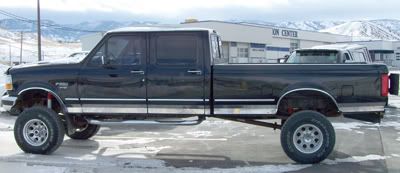 cowboy up and hunt hard
Compression Ignition Addict
Join Date: Oct 2008
Location: Oklahoma
Posts: 383
Mentioned: 0 Post(s)
Tagged: 0 Thread(s)
Quoted: 0 Post(s)
Thanks: 0
Thanked 4 Times in 4 Posts
Feedback Score: 0 reviews
Could've used more kills on camera, but overall it was pretty good to me.
Serving Our Country!
Join Date: May 2006
Location: Benton, AR
Posts: 2,318
Mentioned: 0 Post(s)
Tagged: 0 Thread(s)
Quoted: 7 Post(s)
Thanks: 9
Thanked 18 Times in 18 Posts
Feedback Score: 0 reviews
I like it and also liked the music you used, very nice.

Doug
---
2006 Ford F-350 Crew Cab Lariat 4X2 PSD 6.0 TorqShift Automatic Transmission. Upfitter Switchers Chrome Door Handles,
Oxford White with lower part being Arizona Beige Metallic.
Creative Coating Sprayed in bed liner.
20K Reese 5th wheel hitch.
Mods. 4in. Silverline stainless steel exhaust
BD Diesel XMonitor
Bama ZooDad
35 HitchHiker
Is it time to go camping?
http://video.superdutydiesel.com/vid...200180b9bd.htm
EX-USN
Doug