questions about a 04 psd
---
i am lookin at a 04 powerstroke xlt with 59,000 miles. and had a few questions.
on the dash there is a small light that flashes every couple of secounds what is that for is it stock.
if you can see is the exhaust look stock? it is very clean looking?
is there any way i can really tell if it has ben chiped or programed?
thanks
peter
---
Peter
2008 F-250 XLT FX4 SuperCab ShortBed
H&S Mini Maxx, DPF/DOC Delete, AFE Intake, Airdog, Terra Grappler
556 HP 1059 TQ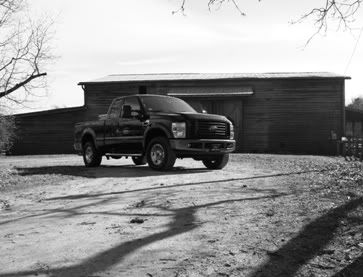 Farm Truck
2006 F-250 SD SC LB FX4, B&W turnover ball, Durabak liner, Cobra CB, cat delete
<--Pro Cooler Racer
The light on the dash is NOT stock..it looks like an aftermarket alarm LED. Thats all I can say about that.

The exhaust looks like the factory muffler and CAT, althought the CAT looks REALLY clean compared to the muffler. Might of been replaced for one reason or another.

There is no easy quick way to tell if it has had a programmer.
---
Eric
2007 F250 6.0l King Ranch CC LB
Sponsored by Innovative Diesel Performance
SCT XCal2 w/ Custom Files & FICM tuning
DashDAQ Series II; ARP Headstuds; AFE Stage 2 XP Intake w/ Proguard 7
Industrial Injection 190cc injectors; FASS 150/180; ITP Regulated Return
'03 Turbo Swap; Zex N2O Dry Shot; CFM Smallmouth Intake Elbow
Zoodad w/ Predator Screen; MBRP 4" Cool Duals Straight Piped
EGR Delete w/ full manifold; Coolant Bypass Filter; Train Horns
Eclipse AVN62D; High Idle Mod; BFG ATs 285-65/20s
Truck- 12.51sec @ 108mph @ ~7700lbs (1/4 mi)
Cooler- 39.93sec @ 12.12mph @ ~180lbs (1/8 mi)
Email: DKR@powerstroke.org