6.0L coolant
---
So, I might be getting an EGR Delete kit and that means i gotta flush out all my crappy silicate based coolant and put in new coolant. I wanna know how to flush out my cooling system (and if i can just use water and nothing else) and if this Peak Long Life phosphate and Silican free formula is any good, it meets ASTM D-3306 and ASTM D-4340 standards.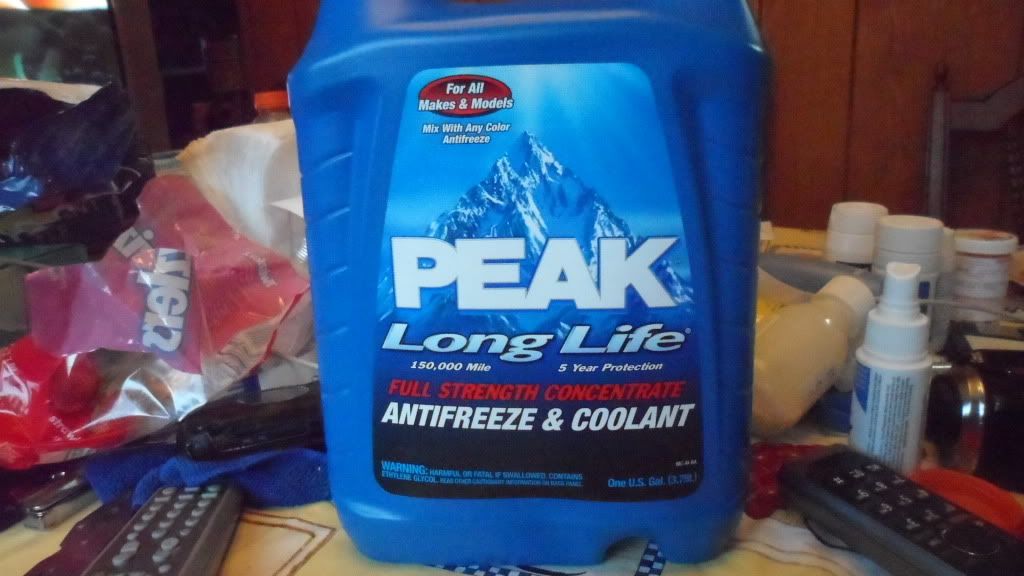 ---
2007 Ford F250 Lariat 6.0 Powerstroke

mods:
Banks Ram air
Sinister Coolant Filter
Swamps 48V FICM with PHP Atlas 40
B&W turnover ball hitch
EGR Delete
Diesel Site Intercooler Boots
SCT livewire TS 5015 w/IDP custom tunes
Agressive street, Tow W/jake brake, Economy

Other rides:
2010 Ford Explorer 4.6 24V V8
1999 Ford Mustang Cobra 4.6 32V V8
Mods:
JLT True CAI
Smoked Heads/tails


To view links or images in signatures your post count must be 10 or greater. You currently have 0 posts.

RIP Mitch ! We miss you
Join Date: Mar 2008
Location: Abingdon, Md.
Posts: 11,991
Thanks: 4
Thanked 51 Times in 19 Posts
Mentioned: 0 Post(s)
Quoted: 1 Post(s)
Feedback Score: 3 reviews
You want a coolant that meets Cat EC-1 standard not that stuff. There are lots of them around. Napa sells the Zerex ELC under part no. ZXED1. If it isn't on the shelf give them that part number and they'll have it the next day.

My flush procedure is in the 6.0 Tech Files section. If you want to skip the chemical flush go ahead but flush thoroughly with tap water followed by at least 24 gals of distilled water.
---
RIP Mitch

To view links or images in signatures your post count must be 10 or greater. You currently have 0 posts.
the Org crew