Banned
NEW SPECS ON ARP HEADSTUDS???? AND LUBE????
---
IM DOING a 6.0 and it has previously been studded,im hearing there is a lube that goes in when torqueing the things....input????


also its not 250 ft lb anymore(what im told) its 210.....any input??
Compression Ignition Addict
Join Date: Jul 2007
Location: Pleasant Grove,Utah
Posts: 258
Mentioned: 0 Post(s)
Tagged: 0 Thread(s)
Quoted: 0 Post(s)
Thanks: 0
Thanked 0 Times in 0 Posts
Feedback Score: 0 reviews
I would check ARP website for specifics. Or an experienced machine shop or high end engine builder.
Torque values will depend on what type of lube you use. Make sure it is applied to the the washers under the nuts as well as the threads.
Generally the more slip the lube has, the lower the torque needs to be to obtain the correct stretch to the stud.
Lower the friction, the less the stud is twisted, the more uniform the resulting clamping force will be.
Hope that helps
---
Micha, Pleasant Grove, Utah
99 F350 Crew cab long bed, Tymar intake(The real deal)
Zoodad, 4 inch exhaust, Dipricol gauges, WW,
gutted turbo pedestal and ebpv deleted big exhaust outlet, ccv delete
Compression Ignition Addict
Check the sticky above your post in this forum. Adam pretty much spelled it out and why the new lube is used as well.
---
Randy
2006 f250 4x4
crewcab shortbed
lariat auto
Some tuning, gauges and other assorted non factory dodads
Slacker
Join Date: Dec 2006
Location: Surprise, Arizona
Posts: 18,081
Mentioned: 5 Post(s)
Tagged: 0 Thread(s)
Quoted: 49 Post(s)
Thanks: 16
Thanked 170 Times in 145 Posts
Feedback Score: 4 reviews
This is a sticky in this forum.
---
Shawn Carlson
EvilEye@powerstroke.org
Proud Navy Vet
2005 F250, CCSB, 6.0 PSD, FX4 (The Sweet Unit is white)
2008 F350, CCLB, 6.4 PSD (Brad-the wife's truck is black)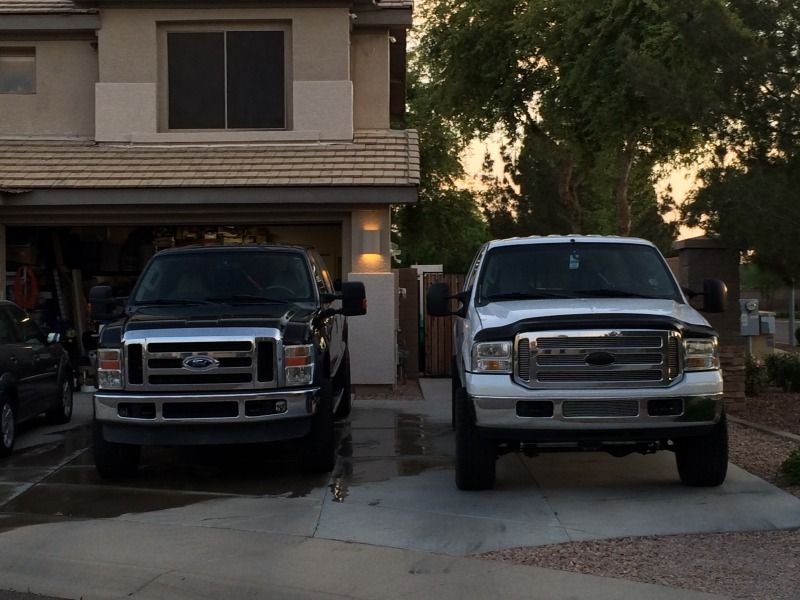 Engine Mods:
Fluidampr
CCV Reroute (Reinstated)
4" MBRP Exhaust
MTW Stage 1 Turbo
Bulletproof 53V FICM
BulletProof EGR Cooler
BulletProof Water Pump
Riff Raff Intercooler Boots
Gogo Diesel Direct Drive Solenoid
BulletProof All-Aluminum Radiator
BulletProof All-Aluminum Intercooler
BulletProof Oil Cooler System w/ Bypass Filter
SCT w/ Custom Tunes (TSD, DJ's, Innovative, Gearhead, QuickTricks)
Exterior Mods:
Bilstein 5100 Shocks
Icon Adjustable Trac Bar
Firestone RideRite Air Bags
BDS Dual Steering Stabilizer
Aluminum Finned Differential Cover
Reese 16k Manual Slider 5th Wheel Hitch
Icon 2.5" Leveling Kit w/ F-350 rear blocks
20" BMF Novakanes wrapped in 33" Nitto Terra Grapplers
FJuanfiddy mod
---
Email: Dave@powerstroke.org
2011 F150 Ecoboost Crew cab lariat. Custom tunes from KEM and 5Star, and Unleashed
2012 F150 Crew Cab Ecoboost stock for now-Totaled March 12 2015
2006 F250 ECSB Lariat 4x4
Leveling kit, 315/70/17 Kelly TSRs on Method race wheels
ARP studs and OEM gaskets done by Renegade Diesel
ECM and Atlas 40 FICM tuned by Bill at PHP SCT tunes by Truck Source Diesel. Gearhead, Innovative, Wildman and Tyrant diesel
Flowmaster/MBRP Hybrid Exhaust
Edge Insight CTS
Coolant filter
Bulletproof diesel FICM EGR Delete, Oil Cooler and Water Pump, and Light bar.
Dually LED lights from Stealth Automotive/Xpedition Outfitters
No Limit Fab 6.0 Cold Air Intake
http://www.bulletproofdiesel.com/default.asp
http://nolimitfabrication.com/