1989 f250
---
ok well i got an 89 f250 with a 351 windsor in it an i know its low on freon. does anyone know how many lbs these motors hold??? thanks
---
Early 1999 F250
Ext Cab Swb
Foil Delete
Dyi intake
5" dp back exhaust
37" boggers/ leveling kit
AD injectors
DI custom 4 pos. chip
Big dreams on a 20 yr olds budget
Compression Ignition Addict
Well I would take a guess and say it is not freon or r12 it is most likely r134a

You can get a fillup thing from the parts store with a gauge and it will tell you when to stop.
---
2002 f250 BFT Edition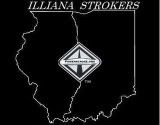 Compression Ignition Addict
just did it today on a buddies 90 with the 460ci. we went to pep boys today and as dereku said we got a can of r134a refrigerant with a gauge. we filled it and it the ac got cool, not cold just cool for about 10 minutes, after that it went right back to hot. anyone know what it could be?
---
08 F-250 6.4L CC SB FX4
PowerTank Air Tank For Sale Click Here
Compression Ignition Addict
could be leaking out or you might have a week compressor..... i do auto ac for a living and there are alot of things that can be wrong but it sounds like a leak.....
---