Compression Ignition Addict
Join Date: Nov 2005
Location: Big Cypress Indian Reservation
Posts: 2,756
Mentioned: 0 Post(s)
Tagged: 0 Thread(s)
Quoted: 0 Post(s)
Thanks: 0
Thanked 0 Times in 0 Posts
Feedback Score: 0 reviews
No. I wanted to but I have to go to Alabama next weekend to pick up a horse for the old lady. Had somebody gonna give me tix too.
---
T.J.
2003 F-350 dually 6.0
Centennial Edition
Straight exhaust 34x10.50 Swampers on Black Rock Stars

Been a member longer than most of the moderators
Thats why I said most Tiff
Think you can trust the government? Ask an American Indian!
My old truck in action
Compression Ignition Addict
Join Date: Feb 2007
Location: Sebring, FL
Posts: 3,673
Mentioned: 0 Post(s)
Tagged: 0 Thread(s)
Quoted: 0 Post(s)
Thanks: 0
Thanked 0 Times in 0 Posts
Feedback Score: 0 reviews
what kind of race is it?
---
Ricky
Dirty South Strokers
2003 F-350 Crew Cab 4x4
SCT Custom Tuned, Leveling Kit, BFG All Terrain T/A KO 315-75-16, 06' Seats, Zoodad Mod, Dual Silverline Exaust, AFE Cold Air Intake, Fog Light/Highbeam Mod, Edge Insight, 05-07 Polished Intake Elbow, Throttle Body Delete, ARP Headstuds, EGR Blocked Off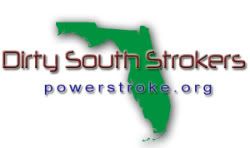 ---
Last edited by bluestroker; 03-26-2007 at

06:03 AM

.
Powerstroke.org Fanatic
Compression Ignition Addict
Join Date: Feb 2007
Location: Sebring, FL
Posts: 3,673
Mentioned: 0 Post(s)
Tagged: 0 Thread(s)
Quoted: 0 Post(s)
Thanks: 0
Thanked 0 Times in 0 Posts
Feedback Score: 0 reviews
that looks pretty cool I might go on Sat I have to talk to the wife
---
Ricky
Dirty South Strokers
2003 F-350 Crew Cab 4x4
SCT Custom Tuned, Leveling Kit, BFG All Terrain T/A KO 315-75-16, 06' Seats, Zoodad Mod, Dual Silverline Exaust, AFE Cold Air Intake, Fog Light/Highbeam Mod, Edge Insight, 05-07 Polished Intake Elbow, Throttle Body Delete, ARP Headstuds, EGR Blocked Off