4 wheel dirve gone?
---
went to move truck away from the breaking trees & put it in 4x & it didn't engage, no light nothing. got out manually locked them, but on FLAT ground I was sliding everywhere. I just replaced the lines in the wheel wells last winter what else should I check??? I can't leave atm cuz of this, we are on a hill & if I slide on flat, I'm not really into going down the hill sideways.....
thanks in advance
---
---
Last edited by korg70kbc; 11-21-2010 at

06:41 PM

.
ARMY MOM!!!!
duct tape & zip ties
I would check fuzes for the 4wheeldrive, I am guessing you have electronic shift. Being no light is coming on.

Check fuzes, check the switch, check the wiring. See if you are getting power at the shift motor on the t-case. You can put it in 4wd manually. You have to remove the shift motor. Then using a crescent wrench you can lock the t-case into 4wheeldrive. Then when you get to dry pavement you can put it back in two wheeldrive.
---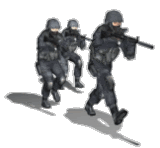 Your Actions Today, Decide Your Future Tomorrow
2005 6.0 Crew Cab Long Box Lariat, current truck
2004 6.0 destroyed by contaminated fuel
2002 7.3L burnt
ARMY MOM!!!!