Running at The Rock
---
I found this video on YouTube of NADM@ The Rock. There is some nice runs from this past weekend at Rockingham. The Granny Truck made her best run to date. 14.1 @ 99 mph Now she has gone faster 101 mph but the 14.1 is the best ET she has run. The old man was on his game! His reaction times were looking good and the 60' times are getting better. After the 1st run, which was the best, the track starting changing on us and the times went down. Not sure what was happening. But needless to say, I was please with the 14.1. Not bad for a 2wd Granny Truck!
Check out the video @ 5:59. It is a good run by the Granny Truck. She may be a little slow off the line, but dangit, she got some top end from hell!!!
Video
Thanks to James Wright for the video! Hope you don't mind! But I wasn't able to get any of The Granny and I was excited to see some! Thanks!
---
Granny aka Terri
granny@powerstroke.org
04 F250 CC 6.0L PSD 2WD
A Few Ponies Under The Hood
Wrenches Turned by Trucks Unlimited (Thanks Scott!) and NPCCPARTSMAN
Injectors by Ryan Casserly of Full Force Diesel
Turbo by KC
Oil Cooler by BulletProof Diesel
SCT Custom Tuning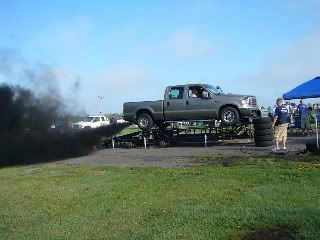 Compression Ignition Addict
Join Date: Oct 2007
Location: Sanford, NC
Posts: 458
Thanks: 0
Thanked 0 Times in 0 Posts
Mentioned: 0 Post(s)
Quoted: 0 Post(s)
Feedback Score: 1 reviews
Thats good to hear Terri
---
Roger
2006 F250 Superduty 6.0L 6 speed manual
MODS
Banks with PDA, Iron Horse Bumper,Upfitter switches, High Idol Mod, Zoodad, Tint, K/C Lights, 08 F250 Rims, Remote start and Viper Alarm, 03 Turbo, Electric exhaust cutout,
ARP Studs and EGR Delete
Thanks To Scott @ Trucks Unlimited
Coming Attractions
SCT Custom Tuning
The Lady Mod
Thanks Roger! Look forward to seeing you at SSS08!
---
Granny aka Terri
granny@powerstroke.org
04 F250 CC 6.0L PSD 2WD
A Few Ponies Under The Hood
Wrenches Turned by Trucks Unlimited (Thanks Scott!) and NPCCPARTSMAN
Injectors by Ryan Casserly of Full Force Diesel
Turbo by KC
Oil Cooler by BulletProof Diesel
SCT Custom Tuning