Grrrrrrrrr!!!!!!
---
this is gettin me pissed.. I bought a laptop with vista and IE7 well for some reason I cant get on the site the diesel garage but if i get on my old system I have no issues.. it is running xp and IE7 as well

I have tried everything I can think of even installed firefox thinking it was a browser issue dropped all my security shut down firewall still nothing...even checked the hosts file to make sure there wasnt anything blocking it

anyone have any ideas???
---
1999 F250 XLT 2WD 7.3, 6 spd, South Bend Con OFE, Detroit Truetrac, Tony Wildman tunes, Autometer Boost&Pyro, AFE Stage II, 4" MBRP Exhaust, 2" Daystars, 17x9 DC1 wheels wrapped in 33x12.50 MTZ's
Chris
Slacker
Join Date: Dec 2006
Location: Surprise, Arizona
Posts: 18,640
Thanks: 16
Thanked 228 Times in 199 Posts
Mentioned: 25 Post(s)
Quoted: 171 Post(s)
Feedback Score: 4 reviews
Chris,
Here's a very long explanation of why Vista's IE7 is different than XP's.
LINK.
I would try adding TDG to your "trusted sites" within IE7 to allow the javascript to run correctly. It has worked for me in the past.
---
Shawn Carlson
EvilEye@powerstroke.org
Proud Navy Vet
2005 F250, CCSB, 6.0 PSD, FX4 (The Sweet Unit is white)
2008 F350, CCLB, 6.4 PSD (Brad-the wife's truck is black)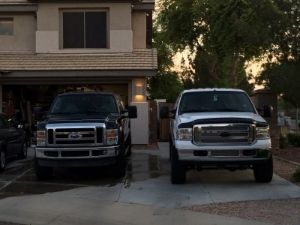 Engine Mods:
Fluidampr
CCV Reroute (Reinstated)
4" MBRP Exhaust
MTW Stage 1 Turbo
Bulletproof 53V FICM
BulletProof EGR Cooler
BulletProof Water Pump
Riff Raff Intercooler Boots
Gogo Diesel Direct Drive Solenoid
BulletProof All-Aluminum Radiator
BulletProof All-Aluminum Intercooler
BulletProof Oil Cooler System w/ Bypass Filter
SCT w/ Custom Tunes (TSD, DJ's, Innovative, Gearhead, QuickTricks)
Exterior Mods:
Bilstein 5100 Shocks
Icon Adjustable Trac Bar
Firestone RideRite Air Bags
BDS Dual Steering Stabilizer
Aluminum Finned Differential Cover
Reese 16k Manual Slider 5th Wheel Hitch
Icon 2.5" Leveling Kit w/ F-350 rear blocks
20" BMF Novakanes wrapped in 33" Nitto Terra Grapplers