Alberta "Duty" chat....and B.S
---
Well i notice were cluddering up alot of other threads...mine as well make a BS thread..
So i went to change my T-stat last night before the trip to calgary..i couldnt get the ****er to stop leaking..2 hrs later kapowee..man what a PITA.. but this is the old t-stat..
no the belts not missing pieces..its just wet lol
Once that was fixed i moved onto the boost gauge fitting i made up..works better then any plastic t-fitting.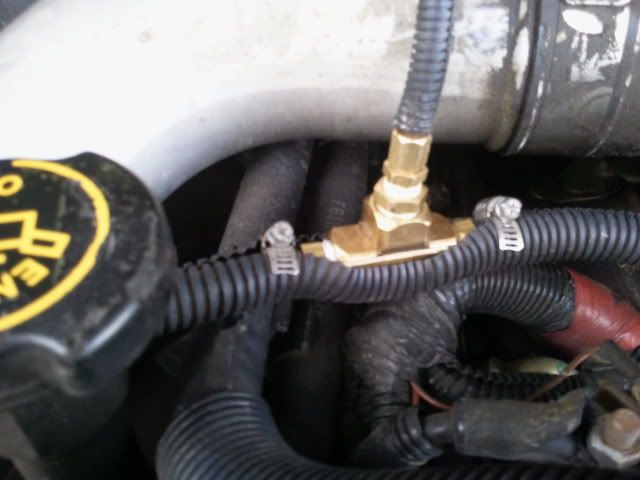 So today i drove to Calgary and back...i brought home presents!!
I CANT WAIT!
---
05+ coils, 10 Rear diff, box, tailgate, lights, bumper, Full 07 front harley swap...the list is endless.

AS IM RARLEY on here anymore...have a question ?? EMAIL ME dakinbryce@hotmail.com..ill gladly answer any of your questions. OR search me on facebook. ill help out anyway I can !

updated as of OCT 28/2013
Electrical Ogre
Join Date: Aug 2007
Location: Calgary, Alberta
Posts: 12,138
Thanks: 30
Thanked 79 Times in 76 Posts
Mentioned: 1 Post(s)
Quoted: 103 Post(s)
Feedback Score: 1 reviews
Nice. Those t-stats can be a real c-bomb. I had to replace the t-stat neck a couple years back on my '00 because of rusting.
---
Bill
1996 F250 SC/SB 4X4 XLT
1997 F250 RC/SB 2WD project
2008 F350 CC/LB 4X4 DRW Lariat, 3" cow catcher mod
2008 Ranger SC FX4
Quote:
If your posting pictures bill, everyone dim their screens, that CAT YELLOW is bright
Quote:
Is there anything you DONT take apart and **** with?
Quote:
I still say that those Dodge mirrors have as much business on a OBS Ford as yoga pants have on a fat chick...my .02
Compression Ignition Addict
---
05+ coils, 10 Rear diff, box, tailgate, lights, bumper, Full 07 front harley swap...the list is endless.

AS IM RARLEY on here anymore...have a question ?? EMAIL ME dakinbryce@hotmail.com..ill gladly answer any of your questions. OR search me on facebook. ill help out anyway I can !

updated as of OCT 28/2013