HELP!!WHITE SMOKE!!!
---
PLEASE
Went out to crank the truck yesterday morning and it took like 10 tries to get it to fire. When it did it poured out HUGE amounts of white smoke for about 30 seconds and ran VERY rough for about 60 seconds then smoothed out. This morning it cranked first time, but coughed sputtered smoked and died. Second crank it fired but ran rough for about a minute again. Thinking it might be due to the DP tuner I switched it back to the stock program and it smoothed out some, but not all the way. put it back on the 120 program and back to the coughing and sputtering. PLEASE TELL ME WHATS WRONG WITH MY BABY!!
Joey
---
Compression Ignition Addict
Bump! somebody out there can help
---
duct tape & zip ties
To me it sounds like a glow plug issue. Either the glow plug relays are not working or the glow plugs are not working. I say this because usually the white heavy smoke at intial start up is a result of the engine running cold. The rough running at idle is also a syptom of something wrong with the cold start system on a diesel. Check your voltage at your glow plug relay. You should have 12 volts on one side, then with the key on you should have 12 volts on the other big post on the relay. The reason it ran better when you went to stock setting is less fuel being put into the cylinder. The less amount of fuel makes it easier for the cold engine to fire the fuel.

If you have 12 volts on both posts of the relay with the key on, check the harness connectors at the valve covers. Make sure you have a good connection there. To check the glow plugs you would have to pull the valve covers off.
---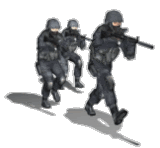 Your Actions Today, Decide Your Future Tomorrow
2005 6.0 Crew Cab Long Box Lariat, current truck
2004 6.0 destroyed by contaminated fuel
2002 7.3L burnt
HardLuck Case of the Year
When is warms up does the idle smooth out?

If so...check your HPOP level and oil level in the pan. You might be low.
---
DITTY
Brisco:
-White 2000 F-350 PSD CrewCab/SRW/LongBed/4x4/
6spd Manual
/
HUGE Powerstroke.Org Vinals!
Favorite Mods: Baby-seat mod/Girlfriend delete/6pos on Xtreme!
Repairs since bought: both batteries/alternator/3 transmissions/4 clutches/entire front axle/new steering stabilizer/power steering pump
Still broken: cracked windshield/all glowplugs/glowplug relay/4WD still out/trailer harness no power
Current Best: 16.149@84.13MPH (Est.7800lbs)
Compression Ignition Addict
Join Date: Feb 2006
Location: Cottageville, WV
Posts: 492
Mentioned: 0 Post(s)
Tagged: 0 Thread(s)
Quoted: 0 Post(s)
Thanks: 0
Thanked 0 Times in 0 Posts
Feedback Score: 0 reviews
Compression Ignition Addict
Quote:
When is warms up does the idle smooth out?
Yes after a min or two it runs like a champ.
Where is the glow plug relay under the hood? Anybody know?
Thanks
Joey
---
Desert Shield/Storm Vet
Join Date: Dec 2006
Location: Munising, MI.
Posts: 9,092
Mentioned: 0 Post(s)
Tagged: 0 Thread(s)
Quoted: 0 Post(s)
Thanks: 0
Thanked 1 Time in 1 Post
Feedback Score: 0 reviews
Yep its on the passenger side top of motor near the front. You will have two large posts actually its a 4 post relay just like fords starting relay, but you will want to check the two large posts. One large post will have 12 volts hot from the battery. Turn you key to the wait to start postion and you should have 12 volts to the other large post. If you don't change out the relay. The white smoke is just unburnt fuel so don't be to concerned about it.
---
2002 F-250 4x4 EC, SRW, SB
Auto 93,000 miles
DP Tuner F5
ATS Compressor and 1.0 Exhaust housing high flow back plate
Turbo Back 4" Silverline Exhaust Mbrp Muffler Delete
Isspro Trans,Pyro,Boost Triple Pod
Fumoto Oil Drain Valve
AIH Delete With Boost Fitting
Living on a prayer
Join Date: Sep 2007
Location: Salem, Oregon
Posts: 291
Mentioned: 0 Post(s)
Tagged: 0 Thread(s)
Quoted: 0 Post(s)
Thanks: 0
Thanked 0 Times in 0 Posts
Feedback Score: 0 reviews
i just replaced the GPR last night on mine, and this morning was 40 degrees and i heard the new GPR give a fast series of clicks after about a minute. i didn't have a tester with me, but the old one never emitted any noises, and the truck fired right up, even seemed to warm up faster. and to boot, i didn't hear any complaints from the exhaust back pressure valve either. it just generally seemed to warm faster this morning, and didn't give white smoke or gripe when i started it. the new GPR took about a minute of sitting with the key in the ON position before it gave the fast loud clicks, and then i started it.
---
Early 99 (7/98) F-350 CC 4X4 AT 7.3L 200K mi - 4" turbo back w/muffler - AFE Stage 2 - PMT1 ECM - DP 40T/DECEL/80E - dual trans coolers - HPX - Fuel CCK - Auto Meter Trans/EGT/Boost - 3.73 - stock tires