Clock Spring..?
---
When I baught my truck the airbag light would flash when I started then stay on. A few weeks later my horn stoped working, I can hear the relay click when I push it and I checked the fuses. Someone said it might be the clock spring, I have no idea what that is and how to fix it?
---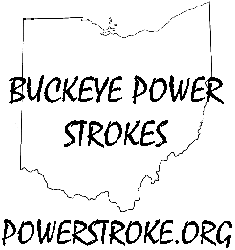 On vacation from a truck for a year or...
Looking at 6.4s Moving in a few months then hopefully buying my dream truck!!!
Driving an Audi till then...
but at work I drive
16 E-450s 7.3 powerstroke Ambulances
7 Duramaxes
1 GMC Kodiak Ambulance
NO CUMMINS.....
Thats Mr. Oil Leak.....
Join Date: Oct 2006
Location: Waller/Magnolia
Posts: 9,604
Thanks: 9
Thanked 4 Times in 4 Posts
Mentioned: 0 Post(s)
Quoted: 5 Post(s)
Feedback Score: 0 reviews
if the relay is clicking I would think it is the horn itself. The clock spring is in the steering column and you have to remove the steering wheel to fix it I believe. That might be causing the airbag light and horn but i'm not sure
---
John Wayne

Owner and Operator of the
REDNECK VALDEZ
You can find me on
FaceBook

Compression Ignition Addict
Join Date: Jun 2007
Location: Dallas TEXAS
Posts: 205
Thanks: 0
Thanked 0 Times in 0 Posts
Mentioned: 0 Post(s)
Quoted: 0 Post(s)
Feedback Score: 3 reviews
the clock spring IS behind the steering wheel and can be replaced in the driveway if done properly... And the clock spring is the #1 cause of your problem diagnosing over the internet.. if you have a test light, you can check the horn connector to see if you are getting power.. with the help of soemone else of coarse.
---
Joel
01 Platinum Edition-330k miles
Swamps 6 Pos., 200/30 Hybrids, WW1, EBP delete, ARP Studs, 910 Springs, FRx, HPX, High Flow CVD Fittings, Smith Bros Pushrods, 4" Magnaflow Stainless, ITP Fooler, EGT/Boost/Trans gauges
Ford AIS, Cowl Hood, Shaved Tailgate, 6.0 paint to match TT Mirrors, 6.0 Tranny Cooler, BTS Valvebody & Accumulator Body, Transfer Flow 46 gal tank w/ harpoon mod, AirRide Bags, Billet Grille, 03 headlights/Corners, 6k HID kit, 08 diff cover, 08 tail lights