Power levels..300 to 500 and above WHP ( write up )
---
Hey guys..

So i was reading Decembers 2010 issue of Diesel world and they have a massive write up in here about different power levels on the 7.3 and how to achieve them. I found it quite interesting so i thought id take the time and write it all out and we'd make it a sticky!

300 Horsepower

For the 99.5-03 Super Duty trucks, reaching the 300 rear-wheel-horsepower level isnt that far out of reach. While Ford rated these motors at 225-275 Hp at the flywheel, most trucks will run in the 200-220HP range in bone stock form. the 7.3L was built to be a good,solid workhorse,something ford definitely accomplished with some 2 million plus 7.3L equipped vehicles produced!
Like any other diesel on the market, the cost of common aftermarket upgrades are a Cold air intake, 4 inch free flowing exhaust, and some kind of chip/tuning upgrade. With even the most generic aftermarket tuners, 300HP should be very feasible. The OEM split-shot AD injectors will max out around 320-340 HP range, so they will really be the limiting factor to higher horse power goals. The factory Turbo charger is plenty capable of the 300HP level. However in most "chipped" 7.3L applications, turbo surge while towing can become an issues with the factor turbo charger. That problem is most often addressed with the addition of either a ported compressor housing from ATS diesel or Sinister Diesel in Phoenix, or a different profile compressor wheel that can be had from numerous aftermarket companies. It's often referred to as a " wicked wheel " as it was named by the Diesel site.
A good custom-tuned chip from companies like " DP tuner, TS performance, Power Hungry Performance and Beans Diesel Performance" will offer great performance gains in an otherwise stock application, as these companies can build the chip tuning specific for your application. Custom tuners consider things like Tire sizes, gear ratio, and transmission upgrades to build the best tuning strategies they can for your particular truck. Most offer these style chi[s in a multi-position platform that will allow you to shift from one performance tune to another on the fly. Like we mentioned before, in most cases 320-340 HP is about as far as youll get with factory injectors and turbochargers installed. So if you're goals are set higher then that youll need to look further into fuel and air upgrades.


350-425 Horsepower

To attain the 350 - 425 Rear-wheel-horse power range, a set of stage 1 and even stage 2 injectors will be required. The factory 140cc split-shot injectors just won't supple enough fuel to allow for that kind of performance. There are multiple companies that offer various versions of these small upgraded injectors. Most commonly, the stock injectors will be replaced with a 160cc single shot injector because of its increased fuel flow, a single shot injector will actually decrease its need for oil volume from the high pressure oil system. The downside to the single shot injector is its need for custom tuning for the PCM and its slightly louder sound while running.
There are a few companies that offer the stage 2 split-shot injector, which is your basic 140cc stock injector with a larger nozzle installed in it. The larger injector nozzles will allow the fuel to inject into the cylinder faster, creating more power. The downside to the larger split-shot design is its added demand for oil, which in most truck would tax the stock high pressure oil pimp and hurt performance in the upper RPM range.
At this power level, it is also usually recommended that the turbocharger and fuel system be upgraded. The factory " Dead head " fuel system can limit the amount of flow to the injectors and begin to restrict your overall performance. The installation of a regulated return fuel system from Sinister Diesel, of Phoenix, is the first big step in upgrading the fuel system for this power level. The 7.3L power stroke will run around 55psi fuel pressure at the injector and the regulated return systems allow that pressure to be bumped up to the 65psi range, which will help the overall performance and efficiency, as long as the stock fuel pump is up to snuff. Upgrading to an Air dog system is also a good upgrade at this power level since it ensures constant fuel flow, pressure and volume that wont be taxed by larger fuel consumption on the other end.
The 7.3L power stroke is one of the few diesels to be equipped with whats known as a " reverse rotation " turbocharger, so there arent many aftermarket turbochargers that are a direct bolt-in replacements.
However, there are a few dedicated to this segment. The most popular drop-in upgraded turbocharger for the 7.3L power stroke is the garrett CT-38R ball bearing turbocharger, which flows around 33 percent more air thena stock turbo. The Garrett GT-38R is the perfect upgrade for a Stock to midly modified 7.3L truck in need of some added air flow. Another popular upgrade comes from ATS, which allows owners to select they Aurora turbo sizes based on needs. Their easy Auror 2000 upgrade provides about 30-33 percent increase in air flow and is one of the easiest bolt-on kits on the market.
The ball-bearing Turbo offers lightning quick response with the increased durability when compared to the stock turbocharger. Hypermax Engineering offers a complete turbocharger system with that uses a Holset H2E turbocharger, which requires a complete new mounting system. But, Hypermax engineered its own exhaust up-pipes, turbo pedestal, intercooler pipes,down pipe, and all associated parts to make it a bolt in kit. There is an added expense in the H2E system, but the fit and form is near perfect, and it makes for a great upgrade at the 400HP level, especially in a daily driven application. This is also the power level at which the late 2000-2003 trucks will need to stop inorder to stay reliable and safe for the stock engine. The Powder Metal Rods they came equipped with have been known to fracture and break around 400HP level. Things such as tuning,cylinder pressures,drive pressures, and timing will play a big role into the motors reliability at this level.

Cont. Page 2!
---
05+ coils, 10 Rear diff, box, tailgate, lights, bumper, Full 07 front harley swap...the list is endless.

AS IM RARLEY on here anymore...have a question ?? EMAIL ME dakinbryce@hotmail.com..ill gladly answer any of your questions. OR search me on facebook. ill help out anyway I can !

updated as of OCT 28/2013
Compression Ignition Addict
425-500 Horsepower

For the 425-500 rear-wheel-horse power range, modifications to the truck are going to be a little more in depth. Again, the basic cold air intake, free flowing exhaust and a custom tunning will play a large role into attaining this power level. For injector upgrades, most 7.3L performance shops are going to recommend jumping up into a Stage 3 hybrid injector. The " hybrid " injector comes from the aftermarket industry, taking the factory-stock split-shot injector body and installing the internal pieces out of the DT-530 International injectors. The DT-530 is the 7.3L Power stroke's big brother and the injectors it came equipped with were much larger. The 530 internals assembled in the factory 7.3L injector body will increase injection fuel amounts from the stock 140cc per event to 238cc or more.
Most shops will offer different size injector nozzles for these hybrid injectors and can build your injector to match your specific application and turbo size. The beauty behind the hybrid injector is its lower demand from the high pressure oil system. While most trucks could benefit from an aftermarket high pressure oil system, no matter what the performance level, a truck equipped with a healthy stock 17-degree oil pump could perform pretty well with the right turbocharger and hybrid injector combination. Obviously, tuning and fuel system modifications will play a large role into overall performance at this level
For Turbocharger at this level, again drop-in style Garrett GT-38R will be an option, but drive pressures in the higher rpm range will become an issue at the power levels over 450HP. Other turbo options include the Wide Open Performance GQSSB of the Beans diesel Modified H2E turbocharger systems. These two turbochargers were built specifically for this 450-500 Hp range, like the H2E from Hypermax, they are "standard" rotation turbos that require complete mounting systems. This turbo charger will offer good streetability for daily driving and towing needs, while still flowing enough air to support the 500HP level without major EGT and smoke issues.
Depending on the combination of parts at this level it may be a good idea to look into upgrading the factory pushrods and valve springs. The added pressures inside the cylinders could begin to introduce a valve float situation, so the stiffer performance beehive valve springs and chromoly pushrods would be some cheap insurance to keeping your otherwise stock 7.3L engine happy. Most shops will also suggest installing a set of head studs into the engine if your boost levels begin neer the 40psi range. The factory head bolts and gaskets have been known to leak and blow out anything over or around 40-42psi boost. Again cylinder pressures and exhaust drive pressures will play a big role into the engine reliablitly.
The 500-plus-horsepower level is most often the stopping point for the factory 99-00 7.3L engine as the factory forged connecting rods have been known to be come stressed and bend at levels much higher. 7.3L Power stroke specialty shops like Wide Open Performance, Beans Diesel Performance, and Swamps Diesel would be the folks we'd recommend talking to if the 500HP is your desired goal. They could help you put together a safe combination of parts that could make for a strong running power plant.



Yes i typed this all out! Enjoy!
---
05+ coils, 10 Rear diff, box, tailgate, lights, bumper, Full 07 front harley swap...the list is endless.

AS IM RARLEY on here anymore...have a question ?? EMAIL ME dakinbryce@hotmail.com..ill gladly answer any of your questions. OR search me on facebook. ill help out anyway I can !

updated as of OCT 28/2013
Powerstroke.org Rookie
Join Date: Oct 2010
Location: Lake Geneva WI
Posts: 19
Mentioned: 0 Post(s)
Tagged: 0 Thread(s)
Quoted: 0 Post(s)
Thanks: 0
Thanked 0 Times in 0 Posts
Feedback Score: 0 reviews
Compression Ignition Addict
Join Date: Oct 2010
Location: Los Gatos, CA
Posts: 418
Mentioned: 0 Post(s)
Tagged: 0 Thread(s)
Quoted: 0 Post(s)
Thanks: 0
Thanked 0 Times in 0 Posts
Feedback Score: 0 reviews
what kind of torques would we be looking at. over 1000???
---
Chris-2002 F250 7.3L CCSB Lariat:
Leveled, WARN hubs, guages EGT TRANS and BOOST, 20" Liquid Metal Wheels, 33x12.50x20 Toyo M/T, '10 Tailgate, Bumper, 6000K HID's, Mag Hy-tec Trans and Rear Diff Covers, 4in TB Straight Pipe, AFE Stage 2 Intake, BTS Valve body, Casserly Stage 1's, GT38r, Reg Return, HPX, Comp Valve Springs, DP-Tuner Live tuned By Jody!!!!
Compression Ignition Addict
Not a bad write up. Keep up the good work
---
1999.5 Ford F-250 7.3l 4x4 PSD DI Short block, Ported Heads, Head studs, Over size valve springs, DI Push Rods, DI RR, GTP38R, GSL 392 fuel pump with 3/8 line feeding 238cc Injectors from Nate @ Unlimited Diesel and Live Tuned By Matt @ Gearhead Automotive
Auto to ZF6 Swap Completed
520hp and 926tq - 5/23/09
516hp and 1121tq - 4/24/10
My Truck Pics
Compression Ignition Addict
Join Date: Aug 2010
Location: Stephenville Tx.
Posts: 388
Mentioned: 0 Post(s)
Tagged: 0 Thread(s)
Quoted: 0 Post(s)
Thanks: 0
Thanked 0 Times in 0 Posts
Feedback Score: 0 reviews
thanks good info
---
1/30/98 EARLY 99 7.3 F350 DRW CC 4X4 4R100 3.73 LARIAT
Compression Ignition Addict
wow very informative! i enjoyed that.
---
Jonathan or Jon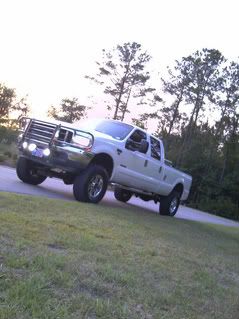 2002 F-350
4" Banks turbo back exhaust.w/5" tip
4" Banks down pipe
Banks Big Hoss turbo waste gate
6" SKY JACKER
35" Nitto All-Terrains
TW chip 6 pos.
Banks Trans-Command shift kit
AFE STAGE II Intake
Gauges (boost, EGT)
102" whip antenna (guaranteed 100hp!
)
enough for fun!
Compression Ignition Addict
Join Date: Nov 2008
Location: Crane/Evansville, IN
Posts: 7,846
Mentioned: 0 Post(s)
Tagged: 0 Thread(s)
Quoted: 0 Post(s)
Thanks: 0
Thanked 1 Time in 1 Post
Feedback Score: 1 reviews
Thanks for sharing. I need the list for 500+...
---
2000 F-250 216k- smoke much?


Facebook: Anthony VanCamp
Add me if you'd like
Member
Join Date: Dec 2009
Posts: 44
Mentioned: 0 Post(s)
Tagged: 0 Thread(s)
Quoted: 0 Post(s)
Thanks: 0
Thanked 0 Times in 0 Posts
Feedback Score: 0 reviews
awesome write up
---
99 7.3
BD waste gate
AFE stage 2 air intake
Bully Dog shift kit
Bully Dog Programmer
Swamps Injectors
22" Echo HD wheels
billet grill
projector headlights
DJM 5" lowering kit
Gauges:
-Boost
-EGT
-Differential
-Transmission
Compression Ignition Addict
Join Date: Aug 2010
Location: Seminole, FL
Posts: 230
Mentioned: 0 Post(s)
Tagged: 0 Thread(s)
Quoted: 0 Post(s)
Thanks: 2
Thanked 0 Times in 0 Posts
Feedback Score: 0 reviews
That is an awsome write up, it makes me wonder what the most power someone has sqweezed out of this motor was