Emmisions light?
---
I just bought an 03 7.3..... sometimes the engine light comes on and turns off while of driving. Comes on and off pretty randomly. No power loss or any ill effects. When i turn the key on sometimes it stays on, sometimes it goes off?
No programmers or chips all stock for now. it is the little light that looks like an engine. Owner's manual says it's an emmision light.?
Already replaced fuel cap with new one.
WHAT COULD IT BE?
The Advance auto parts scanner said no codes. I know those suck but its all I could do at the time.
Suggestions???????????????????
Thanks
---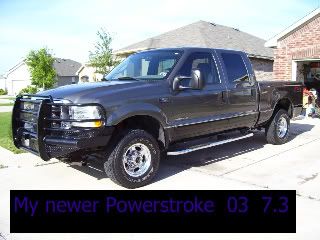 Traded in the 00'
TW 6 pos. chip......reinstalled
Isspro gauges.....Finally in 04-27-09
DIY Tymar.....04-21-09
Zoodad.........04-22-09
Foil delete.....04-22-09
next:
Leveling kit--delayed-wife totalled new car!!!!!!!!!!
4" turbo back MBRP....installed !
305/70/16 Goodyear Wrangler Silent Armors-- done yesterday
---
Last edited by Drepka; 04-23-2009 at

03:38 PM

.
Super Duper Duty
Join Date: Mar 2008
Location: Fairfield CA
Posts: 1,660
Thanks: 1
Thanked 7 Times in 7 Posts
Mentioned: 0 Post(s)
Quoted: 0 Post(s)
Feedback Score: 2 reviews
Gas cap wont make a difference. our trucks dont have an evap system like most cars. there could be a code stored in there. you will need to bring it to the dealer or have someone with some kind of tuner that can read codes like an sct or superchip
Premium Member
Join Date: Jan 2007
Location: Florida Panhandle
Posts: 1,710
Thanks: 0
Thanked 2 Times in 2 Posts
Mentioned: 0 Post(s)
Quoted: 0 Post(s)
Feedback Score: 0 reviews
Possibly ICP? Get a "good " scan tool on it. Mine had 2 codes stored with no light last time I scanned it and they didn't show up on my Actron "Autozone" scanner. They were no big deal, but the "cheapies" will miss some of the codes. Post up with the results, and "we'll" get it figured out.
-Aaron
EDIT: BTW The guess about ICP is just that....Just a wild guess that has no facts to back it up....don't change any parts based on that.
---
2000 Ext. Cab F350 SRW, 6" Skyjacker lift on front/8" BDS Springs on rear w/NO blocks, 37x13.50 Nitto Mud Grappler's, Aftermarket Front Bumper

-Always More Stuff Coming!