mpg
---
i have a 02 7.3 and i'm getting 320 miles per tank. what should i try
Member
Join Date: Dec 2005
Location: kingston mass
Posts: 56
Mentioned: 0 Post(s)
Tagged: 0 Thread(s)
Quoted: 0 Post(s)
Thanks: 0
Thanked 0 Times in 0 Posts
Feedback Score: 0 reviews
get a regular cab with 38 gallon tank
Powerstroke.org Rookie
Join Date: Mar 2008
Posts: 14
Mentioned: 0 Post(s)
Tagged: 0 Thread(s)
Quoted: 0 Post(s)
Thanks: 0
Thanked 0 Times in 0 Posts
Feedback Score: 0 reviews
Quote:
i have a 02 7.3 and i'm getting 320 miles per tank. what should i try
I don't really have many suggestions (im new to my truck and still learning the Powerstroke ropes) but I can tell you we have nearly identical rigs, and I'm getting about 100 more mile per tank. Im not bragging, rather just letting you know there is hope for your wallet if you can figure out the issues.
Couple things I can say that have helped my mileage by about 10% combine at least is the AFE Stage 1 intake I put on, the wastegate delete mod, and driving conservatively.
Compression Ignition Addict
Join Date: Jan 2007
Location: Springfield, OR
Posts: 738
Mentioned: 0 Post(s)
Tagged: 0 Thread(s)
Quoted: 0 Post(s)
Thanks: 0
Thanked 0 Times in 0 Posts
Feedback Score: 0 reviews
clean or change air filter, change fuel filter, oil change, trans flush. Check the cheapest stuff first obviously. i get around that with 8in lift and 38in tires, 4.30 gears.
Keep rpms below 2000, boost as low as possible. avoid cruise control, it'll downshift when its not really needed going up an incline. just give it a bit more gas before the grade to keep the tranny in check
WOW....
---
okay....i don't wanna throw salt into the wound...but i got on my F250 crew cab XLT with 62,XXX miles about 583 before my "fuel me up" light kicked on. i figured i could have about 3 or 4 more gallons left in the tank.

That was driving from Chico, to Glendora area on hwy 99 to hwy 5 in LA, average about 63 miles per hour. not fast not slow, and not towing. I got about 20 to 21 miles per gal. on this last trip. i believe i have the smaller tank, 28 gallons sound about right to me but cant remember.

I have team green intake, 3.5 stright piped. edge chip on power mode 2. zoodad, and easy foot.

easy take offs and anticipate drivers. I don't use cruise much, call me crazy but i always seem to come out ahead when i don't use it.
---
2003 F-250 7.3L PSD
Current mods- Green intake, foil delete, Edge tuner. stock straight piped exhuast
Lights- HID 6000k, LED Line of Fire, LED big rig running lights.
audio/video- pioneer 6.5 inch in-dash screen, Pioneer 4 ch amp, Infinity 2 way speakers.

Code 3- Phantom LED dash mounted forward, 4 phantom deck lights mounted rear, 4 hidden 3 head LED in the grill, 4 corner strobe, Whelen code 3 light control and siren. radio wire into aux input


Kev
Emergency Services
you guys are lucky. I have 4 inch lift, 33s, and only get about 300 miles out of a 34 gallon tank. and thats driving nicely or like a a$$ so i drive like an a$$
---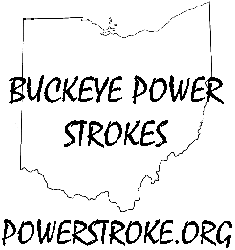 On vacation from a truck for a year or...
Looking at 6.4s Moving in a few months then hopefully buying my dream truck!!!
Driving an Audi till then...
but at work I drive
16 E-450s 7.3 powerstroke Ambulances
7 Duramaxes
1 GMC Kodiak Ambulance
NO CUMMINS.....