Electrical/lighting HELP!!
---
hey guys, got a real stumper here maybe one of yall can help me and guide to a solution!
Anyway my mother has a an 02 excursion limited, 7.3 of course. and she has HID's in her fog lights well she decided she wanted to go back to normal fog lights so i came over to her house and repleaced them for her, i unistalled them (just unpluged them) from the wiring harness from the vehicle, and pluged back in the normal factory fogs lights. well they DIDN'T work...i even went and unplugged them and switched the conections around thinking i plug them in wrong..but that wasn't it either. I dont know whats wrong the bulbs work great cause i went and tried them on my fathers 250 the ligts worked. so is there sometihng that could be wrong with her electrial. the HID's that were in there worked fine. had them for a while. just didnt want them anymore. any help or troubleshooting would be awesome thanks!!!
---
Jonathan or Jon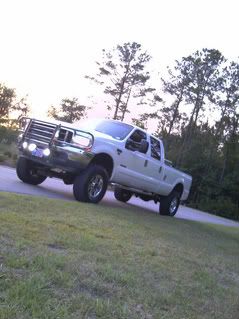 2002 F-350
4" Banks turbo back exhaust.w/5" tip
4" Banks down pipe
Banks Big Hoss turbo waste gate
6" SKY JACKER
35" Nitto All-Terrains
TW chip 6 pos.
Banks Trans-Command shift kit
AFE STAGE II Intake
Gauges (boost, EGT)
102" whip antenna (guaranteed 100hp!
)
enough for fun!