Probably a no brainer...
---
alright so for the past few weeks my a/c has gone from blowing ice cubes in 105 degree weather to blowing what feels like the heat off the motor haha...the only time it goes back to ice cubes is if your driving and you give it some more rpms then its cold for a while then right back to warm. what is it? last time i got the a/c charged was like 8-9 months ago i dont think that would cause it to do that
please and thanks! not that it bothers me butttt having some a/c once in a while is nice.
---
Jonathan or Jon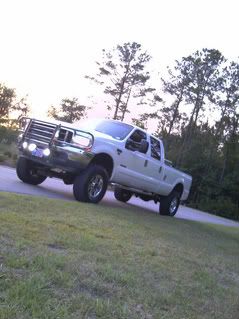 2002 F-350
4" Banks turbo back exhaust.w/5" tip
4" Banks down pipe
Banks Big Hoss turbo waste gate
6" SKY JACKER
35" Nitto All-Terrains
TW chip 6 pos.
Banks Trans-Command shift kit
AFE STAGE II Intake
Gauges (boost, EGT)
102" whip antenna (guaranteed 100hp!
)
enough for fun!