fog light switch
---
hey all, i've been doing a bit of searching, but haven't found any answers, so time to break down and ask. i'm going to be putting a new set of 6" lightson my prerunner bar, and i'd like to use the factory switch for the fog lights. my truck does not have fog lights, but does have the headlight switch that you would pull out to turn them on. what i would like to know is how a truck with factory fogs is wired off that switch. i was poking around with a test light, but couldn't find a power change anywhere when i set the switch to on. there are 2 unused pins on the top right of the switch....maybe this is for power in/out? any help or pictures would be appreciated!
---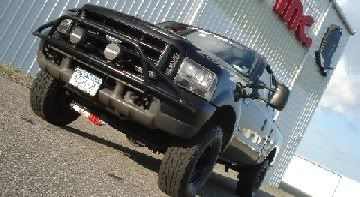 1999 F250 7.3L, 6spd, 4x4 - AFE Stage1, zoodad, Farmboy's Diesel 4" turbo back straight pipe, foil delete, Valair clutch, shackle leveling kit, 16x8 Crager Soft 8s, 295/75/16 Nitto Terra Grappler, Rough Country stabilizer and nitro shocks, Mile Marker hubs
Mob boss
Join Date: Jul 2008
Location: Austin Texas
Posts: 26,951
Thanks: 25
Thanked 28 Times in 26 Posts
Mentioned: 2 Post(s)
Quoted: 148 Post(s)
Feedback Score: 1 reviews
i want to know as well. mine pulls out but had no fogs.
---
2006 Ford F250 CCSB FX4 6.0
Sold
1997 F350 CCLB 2WD 7.3
1999 F350 CCLB 4WD 7.3
2003 F350 CCLB FX4 6.0
LSP Chapter Director
LSP Group Threads
http://www.powerstroke.org/forum/lon...-powerstrokes/