Banned
sooo....
---
so I was cruisin on my buddies facebook lookin through his company trucks( the trucks his company has built ).....and to my surprise I find a pic of my 99 the night we built it....holy schit it really brings back memories. I think if it were a diesel I'd probably still have it....well anyway here it is, this is my 99 after we installed the 8" lift springs on top of the already 3.5" lift hangers and 3" body lift.....so at this time it was sitting on 14.5" on 38x15.50x20 toyo open country MT's on a set of 20x10 eagle 064B's...I think if I go to a black truck Im going to either get these rims again or sell my chromes and go to black 24" rox....anyway tell me what you guys think....DON'T MIND THE FLAG.....some friends of mine think they're rebels so they hung it on my truck for a cruise....I was excited so it stayed.
Chad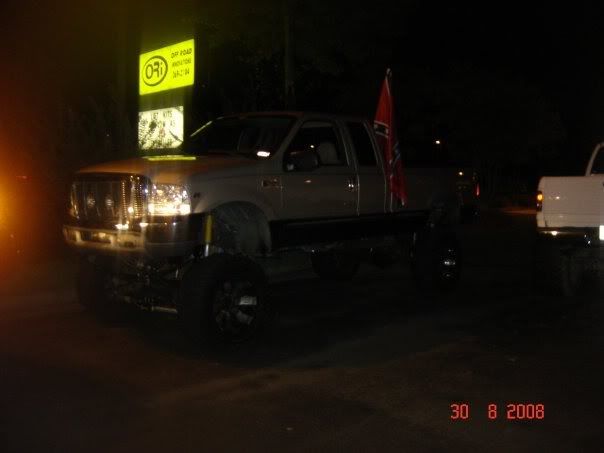 O.I.F. Combat Vet 11B
Join Date: Jul 2009
Location: tallahassee
Posts: 1,048
Thanks: 0
Thanked 2 Times in 2 Posts
Mentioned: 0 Post(s)
Quoted: 1 Post(s)
Feedback Score: 1 reviews
nice truck, and there is nothing wrong with that flag at all bud.
Viking Heavy Diesel
Join Date: Nov 2007
Location: Wasilla, AK
Posts: 20,740
Thanks: 10
Thanked 11 Times in 11 Posts
Mentioned: 0 Post(s)
Quoted: 6 Post(s)
Feedback Score: 1 reviews
At least it was a long bed.
---
Project Frankenstein


To view links or images in signatures your post count must be 10 or greater. You currently have 0 posts.

1997 Ford F-350, Dually conversion, Cobra 29 LX CB, 12000 watt converter, All LED lights, PHP Hydra, 4" DP, Napa Intake, coolant filter, 140cc AD Injectors and lots of running lights.
Quote:
Thanks. I'll give er a good wackin in the morning.
Banned
Im tellin ya if this truck was a diesel, I'd found a way to keep it and have my carseat in there, it was one of the best damn trucks I've ever owned...and where Im from that flag is the devil( I live near the ghetto ) so driving with that flag was like a deathwish lol
Chad