Front inner axle guide tube
---
I finished gathering all the parts to change my leaking front axle seals. Unfortunately in the process of removing, I pretty much destroyed that white cone thing the sits just behind the seal and guides the axle up and into it. I took it to the dealer and they had no idea what it was, much less were they able to find a part number.

Any of you guys have a number, or better yet one that you'd be willing to sell?
---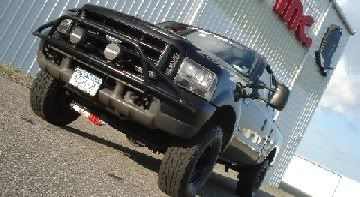 1999 F250 7.3L, 6spd, 4x4 - AFE Stage1, zoodad, Farmboy's Diesel 4" turbo back straight pipe, foil delete, Valair clutch, shackle leveling kit, 16x8 Crager Soft 8s, 295/75/16 Nitto Terra Grappler, Rough Country stabilizer and nitro shocks, Mile Marker hubs
Powerstroke.org Rookie
Join Date: Apr 2013
Posts: 1
Mentioned: 0 Post(s)
Tagged: 0 Thread(s)
Quoted: 0 Post(s)
Thanks: 0
Thanked 0 Times in 0 Posts
Feedback Score: 0 reviews
I think. . . ford F81Z3T695BA . . . . I think.

It's not shown in the Dana/Spicer parts catalog.