Where to get an 6" or bigger liftkit for an F350
---
Starting to look for an lift kit for my 97 F350, but i only seems to find 4" as the biggest, anyone who knows som internetshop that sells bigger??
And i also wonder if anyone can tell me if my truck is alreay lifted or if its standard? seems to sit higher than most standard 350 4x4īs ive seen in here.
on 265/75x16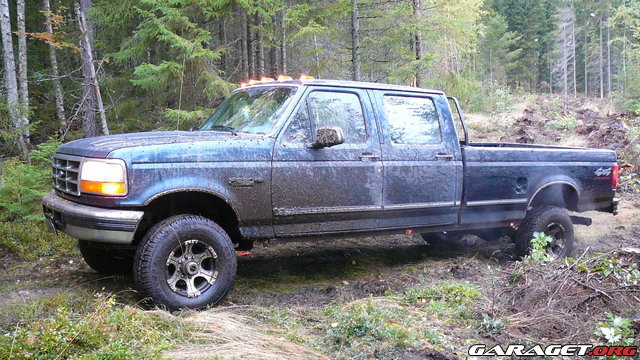 ---
Swedish Powerstroker!
`97 F350 CCLB AUT 4x4, straight piped PSD ofcourse, warn hubs, more to come!
Compression Ignition Addict
Join Date: Apr 2008
Location: Wellington Nevada
Posts: 8,709
Thanks: 1
Thanked 42 Times in 41 Posts
Mentioned: 4 Post(s)
Quoted: 3 Post(s)
Feedback Score: 5 reviews
Some one could have changed front springs or added a leaf?
Only 1 way to lift a OBS and have a good ride quality..RS kit with SD springs frt and rear. You can go as high as you would want.
Member
Join Date: Sep 2008
Posts: 80
Thanks: 1
Thanked 0 Times in 0 Posts
Mentioned: 0 Post(s)
Quoted: 0 Post(s)
Feedback Score: 0 reviews
my truck is on stock 350 springs and i am running 315x70r17s